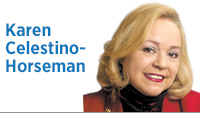 Indiana Sen. Mike Braun believes it should be left to the states to determine the legality of interracial marriage, the right to access contraception and the right to choose whether to go through a pregnancy. The U.S. Supreme Court has held that the right to make these personal decisions is constitutionally protected. That recognition of those rights, says Braun, is judicial activism.
As one of the three arms of government, the U.S. Supreme Court determines when a law infringes upon the rights protected by the U.S. Constitution. The court first determines if the right is recognized by the Constitution and next whether the government action being challenged infringes upon the recognized right in a constitutionally impermissible manner.
In contrast, judicial activism is defined as "a philosophy of judicial decision-making whereby judges allow their personal views about public policy, among other factors, to guide their decisions, usually with the suggestion that adherents of this philosophy tend to find constitutional violations and are willing to ignore precedent."
The confirmation of U.S. Supreme Court nominees becomes contentious because, at its core, it is a struggle for power. People who oppose abortion want judicial nominees who are morally opposed to abortion, while people who support a woman's right to choose want nominees who believe such a right exists.
Roe v. Wade is a legal precedent finding women have the right of choice. The overturning of Roe v. Wade by a majority of justices who philosophically do not believe women have the right to choose is also judicial activism. Nowhere is the power struggle made more clear than in the confirmation hearing of Judge Ketanji Brown Jackson.
Sens. Ted Cruz and Lindsay Graham asked questions of Jackson and then refused to allow her to answer, talking over her while mansplaining. Sen. Mitch McConnell is going to vote against Jackson because she declined to share her personal opinion regarding the addition of more justices to the U.S. Supreme Court. She did state that the question fell within the purview of Congress and that she is "not willing to speak to issues that are properly in the province of" Congress. A perfectly reasonable and appropriate comment. That Braun has said he will not support Jackson's nomination comes as no surprise.
Finally, 159 years after President Abraham Lincoln issued the Emancipation Proclamation, the United States is on the cusp of appointing its first woman of color as a Supreme Court justice. No one has said Jackson is unqualified for the job. Instead, as reflected by Braun, Republicans are afraid she will not engage in judicial activism that supports their causes by overturning existing precedent.
A graduate of Harvard University and Harvard Law School (where she was editor of the Harvard Law Review), Jackson was a U.S. Supreme Court law clerk, a former federal public defender, vice chair of the U.S. Sentencing Commission, and she sat as a U.S. District Court judge for eight years before being appointed in 2021 to the U.S. Court of Appeals. During her confirmation hearing, she displayed poise, grace and good judicial temperament, maintaining her calm in the face of personal attacks.
Jackson is eminently qualified to serve on the Supreme Court. Braun and the others need to get out of her way and let her make history.•
__________
Celestino-Horseman is an Indianapolis attorney. Send comments to ibjedit@ibj.com.

Click here for more Forefront columns.
Please enable JavaScript to view this content.