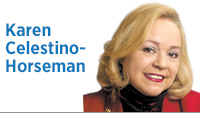 Lulu and Fergie, a chihuahua bonded pair, were 14 years old when surrendered by their owner to a kill shelter. Less than six months after going into foster care, they both had died of mammary cancer, likely due to their not being spayed.
Unspayed Izzy, a full-blooded dachshund suspected of being used for breeding, was surrendered at the age of 12 after having been with her family since she was a puppy. Fourteen-year-old Eddie, a Pomeranian mix, was nearly hairless when he was rescued off the street by an IMPD officer and turned over to the shelter. Bailey was returned to the shelter after being adopted by a family that discovered she had esophageal cancer and did not want their small children to have to deal with death.
Twelve-year-old Huck was surrendered to a shelter with a Grade 6 heart murmur after his elderly owner passed. Sweetie Pie was so old the vet could not even estimate her age. She was also blind, which the vet suspected was due to physical trauma. As I write this, five-pound, 10-year-old Flaco is sitting on my lap. All but four of his teeth have been pulled because they were rotting in his mouth.
These are but a few of the senior dog souls who have graced my life. I am one of the many Indiana volunteers who foster senior dogs that need a safe, warm home and lots of love to finish out their lives.
Most people say, "I could never take a dog knowing it is going to die." But that is exactly why I take in these dogs. Many of them come from bad situations and are victims of either benign or intentional neglect or, worse, physical abuse. I watch them slowly blossom from a scared pup that cowers away from people to the ultimate lap dog that is constantly stuck to someone because they have learned that a hand is for stroking. In the end, they die loved, and they never die alone.
Currently, shelters are filled and need your help. Adopt a dog instead of buying a puppy. Volunteer with a rescue organization. Donate money to a rescue organization. And, when called upon, serve as a voice in support of the animals. We need tougher laws regarding animal abuse and neglect. We need to do away with puppy mills and backyard breeders. Government needs to adequately fund animal care services.
Discourage others from buying a dog and encourage them to adopt instead. And when you hear someone considering buying or adopting a puppy, remind them they are committing to financial and caretaking responsibilities and that a puppy, like any baby, grows up into adulthood.
Looking into the eyes of a dog is looking into the eyes of an innocent. And the unconditional love they provide us is like no other gift. That they continue to love us despite the treatment they have received speaks volumes about their souls. If you want to volunteer, foster and/or donate, check out taffystouchrescue.com. It is a senior dog rescue that works to make a difference and, in full disclosure, is one I am affiliated with.
You can also contact Indianapolis Animal Care Services at indy.gov/agency/animal-care-services, which is raising funds to build a new facility, or you can contact Indy Humane at indyhumane.org, a fabulous rescue organization. There are more, but because I am allowed only a limited number of words, I cannot list them all. Let's work to make a difference.•
__________
Celestino-Horseman is an Indianapolis attorney. Send comments to ibjedit@ibj.com.

Click here for more Forefront columns.
Please enable JavaScript to view this content.