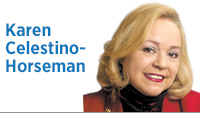 On the two-year anniversary of the Capitol insurrection, Republicans concluded the circus that once again disrupted the transition of power.
This time it was not a transition from one party to another but rather the self-absorbed, self-serving exploits of 20 MAGA, Trump-loving officials who successfully disabled Congress for five days. The 20 were assisted by Indiana congresswoman Victoria Spartz, who refused to cast a ballot for House speaker until the 20 were offered a deal to secure their cooperation.
With a straight face, Spartz explained that the behind-closed-doors negotiations exchanging power positions for votes were part of "draining the swamp." Spartz has expressed interest in running for the U.S. Senate, so this likely played into her decision to side with neither faction lest she offend any Hoosier voter. That is not a show of leadership.
Congressman Kevin McCarthy of California was finally elected speaker, and the complete cost of his victory remains unknown. What we do know is that the ultimate price will be paid by the American people, who will be governed by congressional chaos.
For example, Republicans voted to repeal the funding of 87,000 IRS agents while full well knowing there is no such planned hiring. In actuality, the current total number of IRS employees is 79,000, and that includes everyone—from clerks to IT staff to persons answering the phones to agents. Of that 79,000, only 10,000 are agents. The increased budget is intended to span 10 years. But McCarthy and company passed the bill for sound bites and tweets and with the knowledge that it will not pass the Senate. It was all just a big show intended to result in nothing.
As a result of a promise made to members of Congress who believe that former President Donald Trump has been treated unjustly, McCarthy secured the creation of a committee intended to examine the "weaponization of the federal government." The committee will be headed by congressman Jim Jordan of Ohio—a dedicated Trump supporter—and will have access to confidential information and the power to oversee ongoing criminal investigations.
Talk about the fox watching the henhouse. But again, if any silly legislative changes regarding the FBI or other federal agency are proposed, Congress knows the Senate will be positioned to save Congress from itself.
McCarthy also promised the House Freedom Caucus three of the nine Republican seats on the powerful House Rules Committee. Interestingly, the House Freedom Caucus (all 20 of the speaker-election disruptors are members) allegedly has 53 members.
I say allegedly because the caucus has never released a list of its members. Members are known either through self-identification or by others identifying them as members. There are 221 Republican congresspeople, yet the House Freedom Caucus will hold one-third of the seats of one of the most powerful committees. Yet another price McCarthy paid to be elected.
At the same time the House was in chaos, in a show of bipartisanship, Senate Majority Leader Mitch McConnell was traveling with President Biden. While McConnell might not be my favorite, there is no denying the man knows how to read a room. He clearly heard the message voters delivered in one of the most unsuccessful midterm elections of a party opposing the president's.
There is no question the House train is headed toward a collision. We can only hold on and hope that not many of us are injured by the upcoming two-year show intended to provide lots of sound bites and tweets and few accomplishments.•
____________
Celestino-Horseman is an Indianapolis attorney. Send comments to ibjedit@ibj.com.

Click here for more Forefront columns.
Please enable JavaScript to view this content.