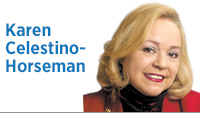 As I write this, today is Jan. 6, 2021, and a physical attack has been made upon the U.S. Capitol. It was not Antifa. It was not terrorists. It was not BLM. No, the attackers were Trump supporters brought to Washington, D.C., at the invitation of President Donald J. Trump. The purpose of the rally was to encourage U.S. senators and representatives to overturn an election already certified by the states.
Trump spoke to the rioters before they charged the Capitol. He fired them up with claims of fraud, telling them he and they had been cheated. He told them that those who did not support overturning the election should be made to pay a price. He told them, "We are marching to the Capitol" to support the representatives and senators seeking to overturn the election. When he finished his speech, the rioters headed to the Capitol, and Trump returned to the safety of the White House.
Since Nov. 6, 2020, we have watched and listened as Trump has spread lies and attempted to upend the democratic process. We have watched as he has turned on both Democratic and Republican governors and secretaries of state, claiming they conducted fraudulent elections. We heard him attempt to coerce a Republican secretary of state to break the law by fraudulently claiming that 11,780 votes in favor of Trump had been found. He was surprised that jurists he appointed refused to support his cockamamie legal theories brought by his screwball legal team.
Our own Sen. Mike Braun, Rep. Jackie Walorski, Rep. Jim Banks, Rep. Greg Pence and Rep. Jim Baird were some of the members of Congress the rioters were marching to support. The group intended to object to the Electoral College votes certified by the states in support of President-Elect Joe Biden and Vice President-Elect Kamala Harris, a stance totally contrary to the Constitution they swore to uphold.
Vice President Mike Pence—despite showing absolute loyalty to Trump the last four years—acknowledged that he did not have the power to unilaterally reject Electoral College votes for a president and vice president, showing more character than Braun (who did back off after the riot), Walorski, Banks, Baird and Greg Pence.
The storming of the Capitol was nothing less than an attempted putsch instigated by Trump. It was Biden—not Trump—who went on television and said the siege must stop. He called upon Trump to go on television and ask the rioters to stop, saying, "The words of a president can inspire, and at their worst, they can incite." He told Trump to step up and order his supporters to leave the Capitol.
In other words, Biden spoke like a president should speak, a stark contrast to Trump's shouting into a microphone "bullshit" only a few hours earlier. Trump's response was to tweet a video, claiming that, while the election had been stolen, the rioters should go home.
Biden is right. Words can incite, and Trump and other politicians—including Braun, Walorski, Banks and Baird—need to remember that their words draw and inspire reaction. We have been through enough, and politicians must stop seeking to wreak more damage upon our democracy and our republic.
Every member of the Indiana delegation should now acknowledge that Biden is our next president and Harris our next vice president. All should offer to work with them to get us through this pandemic. Their priority should be about saving lives, not preserving power.
Jan. 20 cannot come soon enough.•
__________
Celestino-Horseman is an Indianapolis attorney.

Click here for more Forefront columns.
Please enable JavaScript to view this content.