What would Bernie Sanders' plan for corporate accountability mean for business?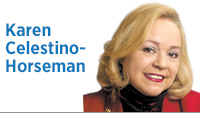 Presidential candidate Bernie Sanders has a wealth-sharing plan that I do not find feasible.
Under Sanders' plan, among other things, corporations with a balance sheet of $100 million or more would be required to do the following:
◗ "Provide" 2% of the company's stock to workers every year until the workers hold 20% of the company.
◗ "Democratize" corporate boards by requiring 45% of the directors of publicly traded companies with a balance of $100 million be elected by employees.
◗ "End the practice" of putting shareholder returns above all else by requiring all publicly traded companies and companies with a balance of $100 million to secure a federal charter from a new agency, the Bureau of Corporate Governance, that would require a company to consider the interests of workers, customers, shareholders and communities in which the company operates.
The adoption of these three provisions is the equivalent of a full-employment act for litigators and constitutional lawyers. Even if Sanders were elected to two terms, I doubt the legal issues would be resolved until after he left office, particularly when one adds to the timeline the years it would take to get the measures drafted and through Congress.
But there is also the impact these changes would have on business. Does Sanders really believe employees are not going to put their interests first? When he says "provide" employees with an interest in the company, is the company expected to give this interest away or is he proposing some type of employee stock option plan? Does he truly believe the insertion of government to approve and monitor corporate actions is not going to cause undue delay?
How does one determine if a corporate action is good for workers, customers, shareholders and communities? Shutting down a plant might not be good for workers or a particular community, but it might be the only option that allows a company to operate in other locations. Do we really want government making these types of decisions, particularly when government is subject to lobbying by the elected officials representing the area of the proposed closure?
This is not to say reform is not needed. For example, Sanders wants to ban mandatory arbitration, which is a costly and time-consuming process, but so is going forward with a lawsuit. A more innovative approach would be to allow certain types of claims to go directly to the courts and to develop a system that is not as expensive as arbitration.
If we want consumers to make better decisions, why not educate consumers? I daresay more consumers are being ripped off by the smaller operations that run the ads that pop up on the internet than are being ripped off by the large corporations.
Sanders closes his proposal by noting that, under the tax changes he proposes, GM last year would have paid up to $1.5 billion in taxes and Delta would have paid up to $1.8 billion. It is interesting that he would highlight these two companies given the economic challenges faced by auto manufacturers and airlines.
While income equality might be needed, that equality needs to come through revision of laws that directly implement true income equality, such as the tax code, so taxpayers carry an equal proportionate share of the cost of maintaining our communities and country.
You can read Sanders' plan for corporate accountability and democracy by visiting berniesanders.com. Click on the "View all issues" button, then on "Corporate Accountability and Democracy."•
__________
Celestino-Horseman is an attorney and represents the Indiana Latino Democratic Caucus on the Democratic State Central Committee. Send comments to ibjedit@ibj.com.

Click here for more Forefront columns.
Please enable JavaScript to view this content.