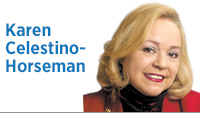 In this time of coronavirus, we have learned that, the more contact we have with others, the higher the chance that we will contract the virus. Reduce your contacts and you reduce your chances of catching the virus.
And yet, when it is time to exercise our constitutional right to vote, Gov. Eric Holcomb and the Indiana Republican Party are insisting that we put ourselves at risk by going into polling locations used by hundreds of other people.
Voting should be one of the easiest constitutional rights to exercise, so why are Hoosiers being forced to choose between protecting themselves or voting? A cynic would conclude, "If you want to reduce the number of votes cast, then make voters choose between not voting or stepping outside their sphere of contact comfort and voting."
Holcomb says he likes voting in person. I did, too, in my pre-COVID life. The Republican chairman of the Indiana Election Commission, Paul Okeson, says, "You have to make a choice in life." But why do we have to choose between not voting or voting and risk falling seriously ill or dying? No-excuse absentee voting makes this choice unnecessary.
Under current Indiana law, an absentee ballot can be cast only by those who satisfy one of 12 criteria. No-excuse absentee voting, as we did in the primary, allows anyone to cast an absentee ballot and thereby avoid the polling place.
There is much confusion in the use of the terms "voting by mail" and "absentee voting." Procedurally, the two are different. In Colorado, Hawaii, Oregon, Washington and Utah, most ballots are cast by mail. In each of these states, every active registered voter is automatically sent a ballot. As discussed previously, absentee voting in Indiana is a different creature. You must first file an absentee ballot application, which is reviewed. If there are no problems, a ballot is mailed to you. Then, you can send in a ballot.
President Trump says he supports absentee voting because it has safeguards against fraud. Trump recently tweeted, "Whether you call it Vote by Mail or Absentee Voting, in Florida the election system is Safe and Secure, Tried and True."
Indiana, like Florida, has a Republican governor and we had no fraud problems using no-excuse absentee voting in the primary. Numerous studies show that absentee voting does not benefit one party over another. Both Trump and Vice President Mike Pence cast absentee ballots in this year's primary, so why can't all Hoosiers vote safely?
Perpetrating a statewide vote fraud via absentee voting is impossible. The fraudster would have no idea how many thousands of ballots would be needed to swing the election. Also, hundreds of ballots going to a single address would quickly draw the attention of the county clerk's office mailing those ballots.
And even if you were able to successfully register thousands of fake voters (an impossibility unto itself), those "fake" registrants who did not present their registrations in person at the clerk's office would not be able to cast their first ballot until each showed proof of residency: e.g., a utility bill, paycheck stub, school transcript, driver's license, etc.
In these days of pandemic, Hoosiers are being denied the ability to protect themselves. Call the governor at 317-232-4567 and tell him you want the choice of voting in person or voting absentee so you can avoid the polling place.
If absentee voting is good for Donald Trump and Mike Pence, it's good for all of us.•
__________
Celestino-Horseman is an Indianapolis attorney. Send comments to ibjedit@ibj.com.

Click here for more Forefront columns.
Please enable JavaScript to view this content.