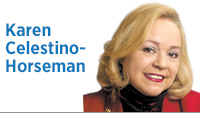 It is midnight, and knocking at your door is a 12-year-old girl—alone, frightened and asking you to please let her in. Do you simply turn off your porch light and go to bed, or do you seek assistance for the child?
This is the dilemma we are facing at our border with Mexico as the number of unaccompanied minors continues to grow.
This is not a new problem, as over 400,000 unaccompanied children have illegally entered the United States since 2003. But as rumors spread that the U.S. has opened its borders (it has not) and conditions worsen in developing nations in Central America, parents are taking the extreme step of sending their children across the border alone to avoid poverty, gang activity and repercussions from natural disaster and the pandemic.
From Feb. 28 to March 20, the U.S. Border Patrol has detained more than 11,000 unaccompanied minor children.
Under President Donald Trump, when families tried to enter the country, the adult members were turned away and the children taken into custody.
One of the first steps taken by President Joe Biden was to stop the separation of children and parents. Instead, Biden is expelling parents and their children together.
His exception to the rule of no illegal entry is children unaccompanied by adults. The children primarily range in age from 6 years old to teenagers.
Let us be clear: No invitation was sent to these people and, contrary to claims by the president's critics, he has never declared an open border. What he is doing is refusing to require unaccompanied children to make the dangerous journey home alone.
Imagine how desperate you must be to send your children on a journey that includes encounters with human traffickers, drug cartels and gangs.
Imagine sending them off without money for food or shelter. Imagine asking them to walk hundreds of miles, sheltering wherever they can.
The parents of these children are not doing it because they love their children less than we do. They are sending us their children because they love their children, and they believe we are the only hope for their children's survival.
If you thought your child were in danger, wouldn't you do all you could to save your child?
Yet, when these children enter our country alone, there are Americans who want to see us do nothing more than to simply drive them back across the border and dump them. That would be an act of inhumanity.
This problem has existed for years and cannot be solved until we recognize that our country exists globally and not alone, behind a wall.
The problems experienced in the developing nations of Central America became our problems when their citizens decided their children could no longer live there because of the dangers.
Studying the problems in these countries can help us better understand how to find solutions. But finding an ultimate solution is going to take hard work, commitment and bipartisanship. I fear these children will remain a political football because of the lack of bipartisanship.
In the meantime, if the children come, we cannot simply keep the door shut and the porch light off.
As Nelson Mandela observed, "There can be no keener revelation of a society's soul than the way in which it treats … children."•
__________
Celestino-Horseman is an Indianapolis attorney. Send comments to ibjedit@ibj.com.

Click here for more Forefront columns.
Please enable JavaScript to view this content.