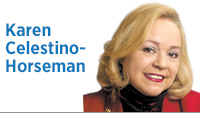 Fantastical tales of voter fraud now abound in social media, fueled by the Trump family, Rudy Giuliani and conservative opinion hosts. These falsehoods have met with some success because many Americans do not understand the complicated election process and the multitudinous safeguards that are built into the system.
In the days before technology, it was possible to literally "stuff" the ballot box. With the advent of new technology and modern-day safeguards, such an effort is impossible. Machines will only count ballots printed in a precise layout and on a particular type of paper provided by election vendors. The machines can detect photocopies. One cannot simply cart in boxes of ballots and feed them into the tabulator because the ballots are electronically tied to a precinct. For each precinct there is a record of each voter who cast an in-person or absentee vote in the precinct. The actual number of votes cast in the precinct must match the number of participating voters in the precinct. Because of safeguards, it is impossible to fraudulently reconcile the two.
I have been sent all kinds of claims regarding vote fraud. For example, I received a video of a man who was obviously reading aloud the candidates selected by a voter to a woman who was entering the choices on a ballot. The claim was that they were manufacturing fraudulent votes. In actuality, in full view of an overhead camera intended to record their actions, the pair was either "remaking" a ballot that had been damaged or entering the choices of someone overseas (such as military personnel) who can send their selections to the election board via email or on another form which must then be entered on a ballot. (For obvious reasons, I won't discuss the video I was sent of a man who claimed Trump had all genuine ballots marked with an isotope so any ballot testing negative for the isotope was fraudulent).
Massive voter fraud requires the participation of hundreds of people who serve in the election process in a wide variety of roles. We know from human nature that the greater the number of people with knowledge, the more likelihood it would be made public. What are we hearing? Crickets.
While one can claim fraud by simply stating, "There was vote fraud," explaining the complicated voting process and safeguards cannot be done in a 30-second soundbite (something with which Trump is all too familiar). Because of this and because his supporters refuse to accept the idea that Trump lost, the claim of vote fraud has gained traction among millions of Americans.
When this is over, Donald Trump will be gone, and we will be left to pay the price of Trump's lies. Segments of the American public will completely distrust the electoral system and believe that their vote does not matter. Because Democrats utilized vote by mail, Republican legislators will fight against it, using Trump's claims as justification. U.S. representatives serve as election observers in other countries. Thanks to Trump's fraud claims regarding our own elections, how seriously will our election observers be taken?
If Trump wants to exercise his legal right to a recount, then I am all for it. What I cannot abide are his sweeping lies of fraud. Our electoral system has flaws but none of those allow for wholesale, massive vote fraud. Trump does not want to let go of his presidential power and the price he is willing to pay is us.•
__________
Celestino-Horseman is an Indianapolis attorney. Send comments to ibjedit@ibj.com.

Click here for more Forefront columns.
Please enable JavaScript to view this content.