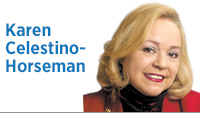 Hans Christian Andersen's tale "The Emperor's New Clothes" is a story about an emperor who loved new clothes. The emperor hired two swindlers pretending to be weavers who promised to make the emperor clothes from a magical cloth that could not be seen by stupid people nor government officials unfit for their office. The swindlers kept ordering gold and silver thread and reselling it, all the while acting as if they were weaving at empty looms.
As the emperor's ministers checked on the progress of the cloth, none of them dared admit they saw nothing because they did not want to be considered unfit for office or a fool. When the swindlers presented the clothes to the emperor, he also refused to admit he saw nothing and agreed to wear the "clothing" in a processional through the town. With his ministers pretending to carry his mantle, the townspeople declared the emperor's new clothes to be exceptionally fine, until finally a child whispered, "But he hasn't got anything on." The rest of the town soon whispered agreement.
"The emperor shivered, for he suspected they were right. But he thought, 'This procession has got to go on.' So, he walked more proudly than ever, as his noblemen held high the train that wasn't there at all."
In the aftermath of the first presidential debate, I felt exactly like the child in the fairy tale as I watched Donald Trump's officials and supporters scramble to defend the president's refusal to condemn white supremacists, to excuse his loutish and bullying behavior onstage, and to blame Chris Wallace, the moderator, for Trump's poor performance. No one wanted to admit that, not only did Trump do poorly, but he also showed the true and naked nature of his character.
Republican congressmen and senators carry Trump's invisible mantle every time they appear with him onstage at gatherings where people are not social distancing or wearing masks, when they join the chorus proclaiming nonexistent election fraud and when they support the idea that he should not abide by the election results.
"The Emperor's New Clothes" is intended to teach us that we cannot let pride keep us from speaking the truth and acknowledging our errors. It is a lesson die-hard Trump supporters refuse to learn.
Their pride and self-interest are prohibiting them from acknowledging that Trump is a divisive bully whose primary concern is not the country but himself and his ambitions. If they admit that Trump is wrong, they must also admit that the country Trump has painted for the last four years is also not real. They would have to admit that the country is dealing with a pandemic for which there is yet no cure, that we are part of a global community, that our social and economic makeup is changing, and that the world of 40 years ago is gone and will not be returning.
On the debate stage, Trump stood in all his naked glory—his bad behaviors of the past four years condensed into an hour-and-a-half spectacle that I wish I could unsee.
We are neither fools nor unfit. As voters, it is up to us to declare that the emperor has no clothes nor future as president of the United States. Vote on Nov. 3 and let your voice be heard. Be the one in the crowd willing to speak the truth.•
__________
Celestino-Horseman is an Indianapolis attorney. Send comments to ibjedit@ibj.com.

Click here for more Forefront columns.
Please enable JavaScript to view this content.