Gov. Eric Holcomb vetoed a bill that banned transgender athletes from playing on school sports teams that align with their gender identity. Should the Legislature overturn the veto?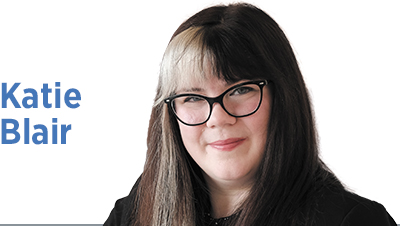 Excluding transgender girls from school sports is the latest attempt by state legislators to prevent trans people from living full and equal public lives. After manufacturing hysteria over restrooms and locker rooms, opponents of LGBTQ+ equality have shifted strategy to excluding trans youth from activities that affirm their sense of self, including athletics.
House Bill 1041 singles out trans girls, banning them from participating in girls' sports, ultimately jeopardizing their mental health, physical well-being and ability to access educational opportunities comparable to their peers.
Gov. Eric Holcomb got it right in his veto statement: There is "no evidence" of an existing problem regarding fairness in girls' sports. But, regardless of the facts, some Indiana legislators continue to attack trans kids to gain political points.
The science
Trans girls are girls and their participation in the girls' category does not change the nature of the category. That's why women's rights advocates such as the National Women's Law Center, the Women's Sports Foundation, Women Leaders in College Sports, and others, support trans-inclusive sports policies. Excluding girls who are trans hurts all girls. It invites gender policing that could subject any girl to invasive accusations of being "too masculine" or "too good" at their sport to be a "real" girl.
When one trans girl succeeds, her success is often highly publicized and politicized to the point of suggesting that the only reason for her success is the fact that she is trans, and that all trans women and girls are inherently better athletes. Neither is true. The occasional success of a trans woman in sport should not be used to exclude all trans athletes.
Medical organizations, including the American Academy of Pediatrics, have decried blanket bans as unnecessary and unscientific.
The legality
When misinformation about biology and gender is used to bar transgender girls from sports, it amounts to the same form of sex discrimination that has long been prohibited under Title IX, a law that protects all students—including trans people—on the basis of sex.
As Holcomb mentioned in his veto statement, courts have already blocked similar laws in other states. The ACLU of Indiana remains prepared to take legal action to defend trans girls' rights if legislators override the veto.
Trans youth have the right to participate in sports consistent with who they are. Denying them that right is blatant discrimination.
The morality
Trans students want to play sports for the same reasons other young people do: to challenge themselves, improve fitness, be part of a team, have fun and make friends. HB 1041 deprives vulnerable kids of the opportunities available to their peers.
Eight-five percent of transgender and non-binary youth report that constant political attacks on them have had a negative impact on their mental health, according to recent Trevor Project data. Yet Indiana lawmakers continue to introduce legislation that sends a message to vulnerable transgender youth that they are not accepted in their communities.
Trans kids deserve to have the opportunity to be kids without government interference. Let kids play.•
__________
Blair is the advocacy and public policy director at ACLU of Indiana. Send comments on this column to ibjedit@ibj.com.

Click here for more Forefront columns.
Please enable JavaScript to view this content.