Indianapolis-based real estate developer Keystone Group on Wednesday announced it purchased two industrial buildings along the Monon Trail in downtown Carmel.
The buildings, which total 69,000 square feet, are south of The Center for the Performing Arts on a 5.4-acre property at the northeast corner of Gradle Drive and 3rd Avenue Southwest.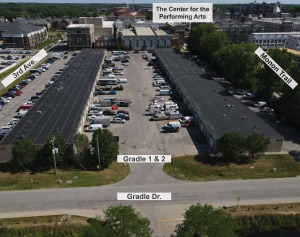 "Keystone is thankful to the owners for their trust in selling this 100% occupied business park located in a great location on the Monon to us," Keystone Group CEO Ersal Ozdemir said in written remarks.
The buildings, known as Gradle 1 and Gradle 2, have been owned by the Gradle family since they were constructed in 1976.
Keystone declined to disclose the purchase price for the property or say whether a redevelopment was in the works.
"We do not have immediate plans for redevelopment but we will work with our tenants and the City of Carmel to make sure the use is complementary to the City's vision for the area," a written statement from the company said.
Businesses at the site include Bonzi Sports Inc., T&T Hail Repair Specialists, Edge Guys Heating and Cooling, The Blind Man, Autoshine Indy, Collins United Flooring, and Mirror and Glass Concepts.
Keystone's previous projects in Carmel include the $60 million Sophia Square building in the city's Arts & Design District and The Olivia on Main, a $30 million development on the southwest corner of the roundabout at Old Meridian and Main streets.
The company recently purchased the 18-acre Diamond Chain manufacturing site on the western edge of downtown Indianapolis, where it is planning a $1 billion redevelopment that would include a soccer stadium for the Indy Eleven, apartments, a hotel, office buildings and retail space.
Please enable JavaScript to view this content.