In 2015, Stephanie Drewry launched a children's cooking school in her home, with the vision of eventually opening a brick-and-mortar location.
Two years later, that become a reality when she opened Sprouts Cooking School in Carmel. Later this summer, the school is expanding again to Zionsville, at a 1,200-square-foot location on Michigan Road.
Since its opening, Sprouts Cooking School has served more than 15,000 children at single-session cooking classes, family cooking classes, a membership program, seasonal cooking camps and cooking-themed birthday parties.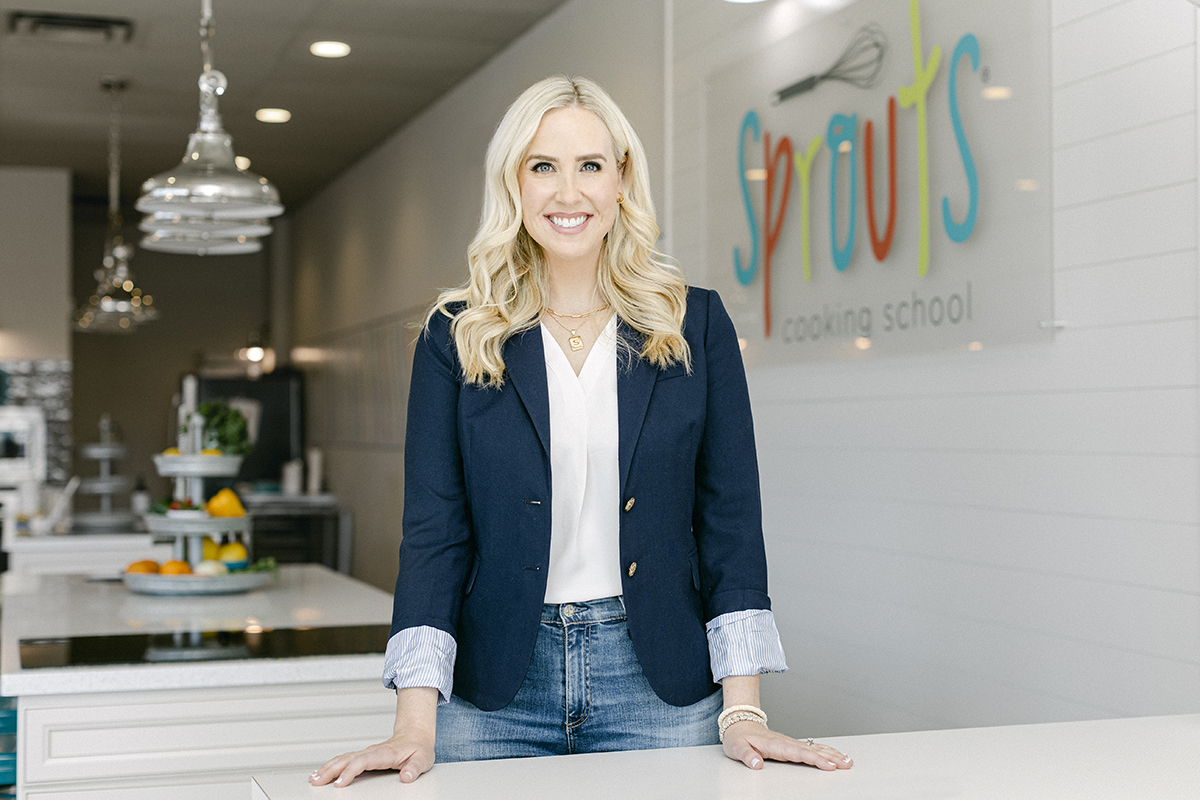 Why did you decide to open a second location in Zionsville?
I had always wanted to open a second one. It was just something that was important to me from the beginning. … [We had] been planning this in 2020, and those plans got derailed. We got to a point last summer, we had booked through everything. I almost was turning away as many phone calls as we were taking in. Just really our demands had grown. And I felt comfortable even after, you know, the shock that we all felt in 2020, moving forward with another store. Our customers have known for a long time that was my goal, to open another location, and so we would frequently get messages on social media saying, "When are you coming to Zionsville? Please come to Zionsville. Please come to Brownsburg."
Will this location be similar to the Carmel location in terms of layout and classes offered?
That is my exact hope, so the decor will be a near exact replica of the Carmel location. … And for classes, I plan to rotate them through because it's not always just the theme that parents are booking on, it's also the date. Let's say comfort-foods class—if you wanted to take that class, and it was only offered May 3 in Carmel. Well, your kid isn't going to get to take that if you have a conflict on May 3. So, we'll rotate it through and offer it in Zionsville as well.
What skills do kids learn in classes at the school?
Our membership-based program each month focuses on a different culinary skill. So, they're going to start by learning kitchen safety: how they are sanitizing, cross contamination of food, clean workspaces. The second month is knife skills. We're going to do a lot of soups and things such as that, so that they really can have, you know, the foundation with sanitation and knife skills to move into their next unit. So, each unit has a specific skill that they're learning, then they earn an enamel pin. After they have earned that, they wear chef coats, and then they have graduation where they create their own restaurant.
If you just wanted a single-session class … you're still going to learn basic knife skills. We're going to talk about leveling and measuring.
What have you learned from this experience since starting the school?
When I first started going into the home business, I was almost embarrassed. I didn't want people to know because I didn't want people to think I would fail. Then I dealt with that feeling again when I opened the brick-and-mortar. And as time went on, and people started believing in the classes and their children were happy, I really kind of started to believe in myself.•
Please enable JavaScript to view this content.