What constitutes a journalist?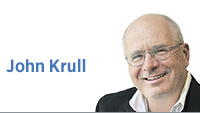 Former President Donald Trump and current Indiana Attorney General Todd Rokita wouldn't have cared much for Benjamin Franklin.
Most Americans today think of Franklin as the man who flew the kite to discover electricity and coined homespun maxims— "a penny saved is a penny earned"—that still are in use.
But he also was America's first great journalist.
Franklin made both his reputation and his fortune as a printer, publisher and writer. He had a gift for puncturing the pomposities and pretentions of the powerful.
Franklin did this by marshaling uncomfortable but undeniable facts. His pen was a rapier. His jabs were quick and deft, not slashing.
His journalism was a product of the intellectual ferment that gave birth to the American Revolution. He was a child of the Enlightenment. He believed in the power of reason and the importance of free thought and expression.
He saw free thinking and the search for truth as the great levelers in an often-unjust world. The right to speak one's mind and question the powerful could ease injustices—could open almost endless possibilities.
That right, for example, could transform a young, unlettered, indentured printer's apprentice into one of the most influential figures of his age or any age.
Even more important, the gathering and widespread dissemination of news and information could enable people born without position or privilege to govern themselves.
Journalism helped make democracy possible.
That's the thing that Trump, who liked to call reporters "enemies of the people," and Rokita, who bans journalists from his press conferences if they have the temerity to question him, just don't get.
When they lash out at journalists, they're attacking the idea of America itself.
Or maybe they do get it and just don't care.
Franklin didn't have anyone to teach him how to be a journalist. He had to learn the skills himself—had to figure out how to gather and weigh facts, how to sift through mountains of mendacity and 1700s-style spin to mine the truth.
Like many journalists, he experienced abuse.
The determined humiliations heaped upon him in England in the days leading up to the Revolution turned him into an implacable foe of the British.
But he also knew the satisfactions of a journalist, the knowledge that the truth not only mattered but that it could prevail.
That faith established the foundation for this country.
Much has changed in the more than 200 years since Franklin died. Most journalists now are not self-taught.
At the journalism school I head—one part of a college named after Franklin—we train young journalists in fact-gathering. We school them in techniques of fairness—making sure both sides of a dispute are heard in a news story, clearly labeling commentary, etc.
But the qualities that truly define a journalist haven't changed much.
Journalists are animated by a belief that all people and their stories matter.
That the facts mean something.
And that the truth is everything.•
__________
Krull directs Franklin College's Pulliam School of Journalism, hosts the news program "No Limits" on WFYI-FM 90.1, and is executive director of The Statehouse File. Send comments to ibjedit@ibj.com.

Click here for more Forefront columns.
Please enable JavaScript to view this content.