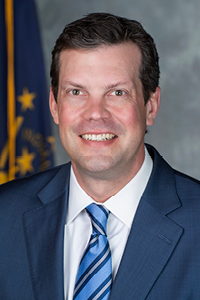 Republican state Sen. Kyle Walker declared victory Tuesday night, crushing Democrats' hopes that challenger Jocelyn Vare could lift their party to a rare gain in the GOP-dominated Indiana Senate.
Walker, who represents State Senate District 31, which includes all of Fishers, Geist and parts of Lawrence, had 19,848 votes to Vare's 16,128 votes with 95 percent of the ballots tallied. 
"Tonight's victory is further evidence that the voters of this district want commonsense leadership that produces results," Walker said in a statement. "In the Senate, I will stay laser focused on the issues that matter, strengthening our economy, improving public safety and investing in quality of life to keep our communities thriving."
The district has historically voted Republican, but in 2018, Sen. Jim Merritt narrowly squeaked out a win in 2018 against Democratic challenger Derek Camp by fewer than 2,000 votes, giving Democrats hope that a 2022 victory was plausible.
This is Walker's first election victory, having been named to the position by a caucus vote in 2020 after Merritt retired.
Walker's success can be at least partly attributed to his successful fundraising efforts, raising roughly $1.5 million– at least 10 times more than Vare, who raised about $120,000, according to the most recent reports.
Walker represents a more moderate wing of his party, breaking away from his colleagues in at least two instances by voting against Indiana's near-total abortion ban and a law that removed the permit requirement to carry a firearm in public.
Walker has said his votes "reflect the views of the majority of residents" in his district.
The election was the first real political test for Walker, who faced a worthy challenge from Vare, a Fishers city councilor.
Like many Democrats in local, state and federal elections, Vare focused on abortion rights but had difficulty differentiating herself from an opponent who also opposed the state's abortion restrictions. Vare said that unlike Walker, she would vow to repeal Indiana's abortion ban.
Her opponent's more moderate stances, combined with a significant fundraising disadvantage, proved to be too much for the Fishers Democrat to overcome.
Please enable JavaScript to view this content.