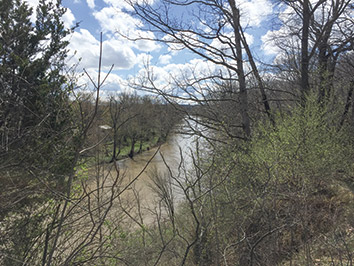 The Central Indiana Land Trust Inc. has acquired the final piece of land it needs to create a nature preserve along the White River on the north side of Indianapolis.
The land conservation group closed on the purchase of about 3.1 acres of land owned by Highland Golf and Country Club—directly west of the river—for about $700,000 on Friday.
The sale, part of a larger 12.2-acre deal in which the trust had already paid $2.2 million for the other 9.1 acres, gives the group control of all the land it desired for its White River Bluffs Nature Preserve, which will open in 2021.
The state's Department of Natural Resources previously awarded the trust a $50,000 grant through its Bicentennial Nature Trust, and that money was put toward the purchase of the heavily wooded acreage.
The trust said it received gifts from more than 90 donors around the United States who wanted to see the area preserved.
The property is on the west bank of the river and east of Michigan Road between 56th and 52nd streets. It offers scenic views of Hinkle Fieldhouse at nearby Butler University, as well as the downtown Indianapolis skyline.
The land's slopes, which drop about 80 feet, are a unique geological feature in the city, created by gravel deposited by glaciers 12,000 years ago.
The land trust has been removing invasive species since 2017. It plans to raise $300,000 for an 80-foot-tall hanging garden along the bank to draw in butterflies, said Cliff Chapman, executive director of the Central Indiana Land Trust.
He said the group also plans to spend up to $200,000 to build a trail to the preserve.
"This is a huge weight off our shoulders, because this was seen as almost impossible to do," Chapman told IBJ. "We're just excited to start moving forward with the restoration."
The golf club at one time considered selling the land to Litz Real Estate for a residential project, but those plans were abandoned after resistance from nearby residents.
Please enable JavaScript to view this content.