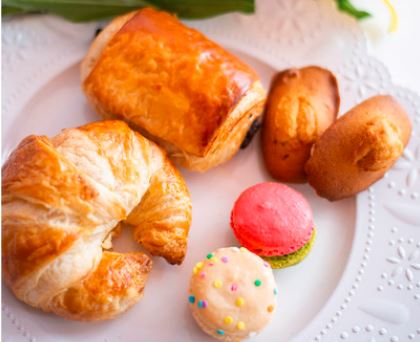 Sarasota, Florida-based Le Macaron French Pastries is planning to bring its sweet treats to Carmel and Fishers this fall.
A store will open in Carmel at 14550 Clay Terrace Blvd, Suite 115, while the Fishers location will be at 8701 E. 116th St., Suite 160A. A third Indiana location will open at 503 S. Main St. in Elkhart.
Mary Lynn, who purchased the franchise rights to the Carmel location with her husband, Daniel Fanning, said the store will offer 25 to 30 different flavors of macarons made by a pastry chef who was trained in France. The treats will be delivered to the store from the company's Florida kitchen.
A macaron is a French pastry consisting of two shells with filling in the middle. The shells typically are made with almond flour, egg whites and sugar.
Customers will also find 16 different gelato flavors, chocolates, cakes, croissants and a coffee bar in a Parisian environment with traditional music and European decor.
Lynn, a Westfield resident, said she might serve champagne and wine in the future if she and her husband decide to acquire a liquor license.
"I thought it would be something that would be really fun to get into," Lynn said. "We're really excited."
A party room in the back of the 1,400-square-foot shop—that previously was a Sunglass Hut location—will be available for tea parties and birthday parties. Le Macaron also offers catering for bridal showers, baby showers and weddings.
Aaron and Christi Parker, who will own the 1,400-square-foot Fishers location, told IBJ they learned about Le Macaron through the company's website and traveled to Cincinnati to sample the macarons and other sweets.
"And then we stuffed ourselves over the next few days and fell in love with the product," Aaron Parker said.
Lynn's experience was similar in that she was exploring a franchise opportunity with another restaurant when she found Le Macaron on Facebook. She and Fanning traveled to Florida where they participated in a Le Macaron "discovery day," sampled the store's products and saw where treats are prepared.
"We like that it's family-oriented," Lynn said. "We also liked that it's going to bring a little bit of French culture here, too."
Le Macaron stores typically employ about 10 workers. Christi Parker said she will manage the Fishers store, while her husband, who works as a certified public accountant, will be involved in planning but also sometimes "on the frontlines scooping gelato."
Lynn and the Parkers both said they hope to open their stores in November, while a company spokesperson said the Elkhart location is expected to open in early September.
Christi Parker said Le Macaron has a general outline for its stores, complete with a pink and gray color scheme, but franchisees can customize the experience in their shops.
"They do give you some freedom so that you can really make it your own," she said.
Le Macaron was founded in 2009 in Sarasota, Florida, by the mother-daughter duo, Rosalie Guillem and Audrey Guillem-Saba.
The company began offering franchise opportunities in 2012, and it has grown in the past decade to 64 stores nationwide with at least 10 more locations planned by the end of 2022.
"We are delighted to welcome these new franchisees to the Le Macaron family," Rosalie Guillem said in written remarks. "The owners of these locations are highly motivated and looking forward to interacting with guests as well as the communities they serve."
Le Macaron was named to FranServe's 2022 Fran-Tastic 500 list, which recognizes the top franchises in the U.S.
Please enable JavaScript to view this content.