City of Lebanon officials announced plans Thursday for a massive hospitality and entertainment district anchored by a $25 million multisport venue surrounded by apartments, hotels, medical office buildings, restaurants, stores, senior-living facilities and condos.
The development is pegged for a 95-acre site just south of the Interstate 65-State Road 39 exit that was previously home to a Holiday Inn Holidome that was razed in 2012.
The price tag for the first phase of the development, which includes the sports facility, infrastructure improvements and a 32-acre, $72 million residential area, is estimated at $113 million.
The project is being led by Noblesville-based Card & Associates Athletic Facilities, which also developed Pacers Athletic Center in Westfield, Finch Creek Fieldhouse in Noblesville and Community Sports and Wellness in Pendleton.
In Lebanon, Card & Associates plans to develop and operate a 270,000-square-foot fieldhouse on 25 acres that will contain two turf baseball/softball fields that can be used for soccer and other sports, as well as eight basketball/volleyball courts. The building will contain an additional 20,000 square feet of tenant space.
The facility will be used for training, league play, a multitude of tournaments and wellness activities.
"This opportunity is exactly the type of transformational development we wanted to see," Lebanon Mayor Matt Gentry said in written comments. "It will not only bring thousands of visitors to Lebanon, but also add a much-needed amenity for current Lebanon residents."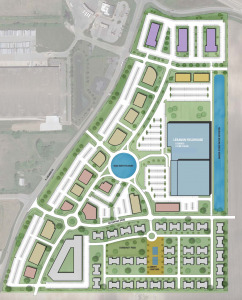 Card & Associates said it has secured a commitment from Philadelphia-based multifamily developer and investor Bel Canto to develop the residential area with luxury apartments featuring a fitness center, resort-style pool and sundeck, and indoor and outdoor social-gathering spaces.
Bel Canto is a national developer with more than $1 billion in multifamily projects in its pipeline. It typically manages the communities it purchases and develops. The company is led by CEO Jennifer Nevitt, who grew up in nearby Arcadia, Indiana, and attended IUPUI. Nevitt was director of marketing for the Indianapolis-based apartment developer Gene B Glick Co. from 1987 to 1994.
Lebanon is expected to support the project with TIF bonds to pay for infrastructure improvements and the construction of the sports facility. It also is donating 11 acres where the Holidome was located. The city estimated its total investment in the development at $11 million.
Lebanon said Card & Associates has purchased the bulk of the land in the development from private landowner Sharon Powell of HRP Holdings.
Card & Associates is working with Fishers-based OnPoint Real Estate Solutions to recruit hotel, restaurant and retail tenants.
Site preparation, infrastructure work and fieldhouse construction are slated to begin in mid-2022, with the fieldhouse being completed in 2023.
The rest of the development is divided into four sections with a total completion goal of 2028:
– Section 2 includes retail, restaurants and a hotel;
– Section 3 includes apartments and a second hotel;
– Section 4 includes medical office buildings, a coworking cafe and senior living facilities;
– Section 5 includes additional retail and restaurants.
Initial plans call some retail and restaurants to be completed in 2024, followed by apartments in 2025; a hotel, medical office buildings, more retail and restaurants in 2026; senior living facilities in 2027; and townhomes and condos in 2028.
Please enable JavaScript to view this content.