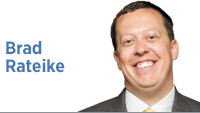 Every election year, I'm reminded of my first full-time job in politics. It was also my first job out of college and had me serving as a scheduler/driver on a congressional campaign. I was paid $250 per week and worked every day—weekends, too—for the final three months of the campaign. Anywhere the candidate went, I went, because I was the driver and it wasn't his job to drive himself; it was mine.
It was my first "real" job in politics. I was energetic and focused on pleasing my team. While those are both generally good qualities for a young person entering the professional world, they must be properly aligned, lest one take over the other and produce a product that sometimes misses the mark.
The setting is a now-closed diner in Beech Grove. We were at the diner for a meeting with a reporter from a small newspaper on the south side. I believe the total order for the table consisted of two cups of coffee and a bagel.
As the "trusted" sidekick, it was my job to pay the bill. Toward the end of the meeting, I went to the cashier and did so. She recognized the candidate from afar and asked me questions. Being aggressive and eager to please, I gave my best pitch to her on why my candidate was great. The next thing I knew, the meeting I had been ignoring ended and the candidate began walking out the door toward the car. I followed him out, not wanting to make us late, and I forgot to return to the table to leave a tip.
When we returned to campaign headquarters a couple of hours later, I was pulled aside by a colleague who told me the diner had called the campaign office to complain that we had not left a tip. I was mortified and immediately returned to the diner and sheepishly walked in with an envelope with $10 inside and an apology note. I apologized to the person I spoke with inside and asked that the envelope be given to our server on her next shift.
It was my mistake. It was my job to tip. Under normal circumstances, a mistake like that doesn't have a big blast radius, but this is campaign season. That afternoon, the campaign received a call from a columnist at the "big daily" paper in town seeking comment. Someone at the diner had called him about the incident and he wanted to use this as an opportunity to give my candidate some "tips" on his folksy image in his next column. I don't remember how many days/hours/minutes it was from the time of that call to when his column finally published, but it seemed like an eternity to 21-year-old me.
I didn't lose my job. The columnist referenced "a junior staffer" but didn't include my name. We lost the election a couple of months later—and not by a small amount, so I'm fairly certain I didn't shoulder all the blame.
Regardless of the outcome, I've taken away powerful lessons from a $2 mistake, but I'm grateful I was able to learn those lessons at a young age. Over the years, I have shared this story with more than one "junior staffer" who has made his or her first mistake in politics.
It's still painful to retell, but you now can guess what I tell people who want advice on getting started in politics: Always tip your server.•
__________
Rateike is founder and owner of BAR Communications and served as director of cabinet communications for President Donald Trump. Send comments to ibjedit@ibj.com.

Click here for more Forefront columns.
Please enable JavaScript to view this content.