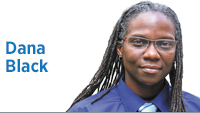 Life-changing health care concerns will put into focus one's own mortality quite clearly and quite quickly. We all run the risk of having a health care crisis in which the way we live our lives would forever be altered. Recently I had that very scare and it made me think long and hard about who would make the necessary decisions about my health if I were incapable to do so. As a divorced, childless, lesbian, I question who will look out for me when I can no longer do that for myself.
I recently heard a story of a member of our lesbian community who had two heart attacks and was still in rehab but with very few visitors, someone to advocate to the doctors and therapists on her behalf or just someone to bring her fresh clothes. She has a large biological family, but they were not caring for her optimally for her to fully recover. A friend shared this story with me because she mentioned how lucky I was to have an extended "chosen family" who was right by my side. Yes, I have been incredibly fortunate, however, many of us in the LGBTQ+ community understand there is no guarantee our "given families" will step up to help in our time of need because some family members have turned their backs on us as we have come out and live openly.
It is not uncommon for many in the LGBTQ+ community to feel alone and isolated as we age and our health starts to deteriorate. Although opinions have changed and American's are more accepting, we still must deal with a host of concerns including the fear of discrimination from health care providers. In July 2018, Mary Walsh, 72, and her wife Bev Nance, 68, filed a lawsuit against a senior assisted living community in Missouri because the married couple was denied housing. After visiting the center and meeting with residents and staff, the couple paid the $2,000 deposit, only for the center's director to tell them they would not be accepted because they were a same-sex couple. Unfortunately the fight for equality continues into our senior years.
Aging LGBTQ+ individuals can experience a wide array of physical and psychological health care concerns equal with their heterosexual peers and we understand we are not unique to this. However, LGBTQ+ older adults are more than twice as likely to live alone. They are two times less likely to be partnered and are less likely to have children. Isolation and lack of community can lead to undetected and untreated depression and other anxiety issues.
Also, there is a growing need for health care providers who bridge between both transgender care and geriatric care. As more and more transgender individuals take the steps to be true to self, they will require specific and targeted care as they age.
Across our country, senior housing, transportation, legal services, support groups and social events are the most commonly needed services in our aging LGBTQ+ communities. Creating a support system with the community is one way to help address these needs, but a greater awareness from our legislators and policy makers will go a long way in improving the aging process for LGBTQ+ seniors and the health care they will need.
As our nation continues to struggle with providing quality health care for every citizen, it is important we look at the nuances of our many different demographics and determine how we can improve health care for all without leaving behind the marginalized.•
__________
Black is deputy chairwoman for engagement for the Indiana Democratic Party and a former candidate for the Indiana House. Send comments to [email protected]

Click here for more Forefront columns.
Please enable JavaScript to view this content.