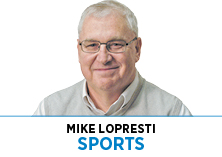 This is the way the Big Ten football season ends, not with a bang, but a whimper …
Here's another virus-created void, this one on Saturday afternoons in the autumn, at least in the Big Ten. And maybe, eventually, everywhere. A season shoved over the brink by worry, fear and liability concerns. Maybe, also, common sense. And a year never to be forgotten, let alone adequately explained, trudges on.
Look at it this way. Sport, at its most compelling, offers the chance to see something that has never happened, and might never again. Well, here you go. When it comes to curiosities, oddities and unprecedented sights, 2020 will be hard to top.
We have seen major league pitchers—seeking to social-distance from their teammates—watching games from the bleachers or sitting next to cardboard cutouts in the box seats, as the only living, breathing spectators in the ballpark. A first baseman sharing his hand sanitizer with a base runner, a manager and umpire going at it mask-to-mask and seven-inning games.
We have seen the Cleveland Indians sell out—of fan cutout seats. The Toronto Blue Jays, banned from playing in Canada, hold their home opener in Buffalo. And the St. Louis Cardinals, as of Aug. 13, have 17 games in a row postponed by positive virus tests. We have seen an Atlanta Brave named Nick Markakis opt out of the season because of coronavirus concerns, change his mind, come back, and promptly hit a walk-off homer. We have seen the Yankees manager complain about noise in an empty ballpark—an air horn in Philadelphia drawing Aaron Boone's ire.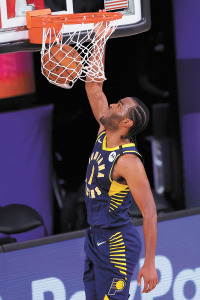 We have seen NHL hockey playoff games on August weekday afternoons, and the Pacers' T.J. Warren become the most unstoppable basketball player in Lake Buena Vista, Florida. Which, at that moment, meant the most unstoppable player in the entire world.
We have seen the NBA proudly cherish a stat even more than its TV ratings—its zero coronavirus infection rate (so far). We have seen virtual fans on huge arena screens trying to unsettle live free-throw shooters. Broadcasters calling games being played in empty stadiums, as they sat in other empty stadiums a thousand miles away. Or like Paul O'Neill, doing commentary for a New York Yankees game in Baltimore, from his Ohio basement.
We have seen Tiger Woods tee off in a major golf tournament in near solitude, when a gallery equaling the population of Zionsville would normally be following him. We have seen, at the NHL Western Conference bubble in Edmonton, the Chicago Blackhawks assigned the home team locker room. Meaning they sat by their stalls with a huge Edmonton Oilers logo above their heads, before going out to play … the Edmonton Oilers.
We have seen big-name college coaches take the first pay cuts of their lives, and major universities discard sports as if they were bailing water from a sinking canoe. Stanford, an athletic powerhouse, cut 11.
There have been so many things we could never have imagined. Just look what's ahead, and it's hard to decide which is more amazing—what will we see or what we won't.
We will see a race day at the Indianapolis Motor Speedway with barren parking lots, and a deserted infield. We will see no traffic jam on West 16th Street. Back Home Again in Indiana, with nobody home. No balloons, either. We will see a new record set in at least one category: major sports event, most empty seats. Will we see a victory lap for the winner? Why? Whom would he or she wave to?
We will see the NBA Finals start on Sept. 30—or 342 days after the Pacers opened the season with a loss to Detroit in Bankers Life Fieldhouse. If the Finals go seven games, we will see them end just a week before the World Series is to begin.
Should major league baseball make it to the end of the schedule—no lock, if the coronavirus tests keep coming back positive—we will see 16 teams in the postseason. Had the playoffs started Aug. 10, they would have included the Baltimore Orioles, Miami Marlins, Detroit Tigers and San Diego Padres. Those four teams all finished in last place in 2019, with a combined 419 losses.
We will see pennants clinched and the World Series won, but presumably no clubhouse celebrations, because, how do you pour champagne over a teammate's head from 6 feet away?
We will see champions, but no championship parades.
We will see the Masters decided 11 days before Thanksgiving. But that Sunday afternoon walk up the 18th fairway will have to be taken early, since sunset in Augusta on Nov. 15 is 5:25 p.m.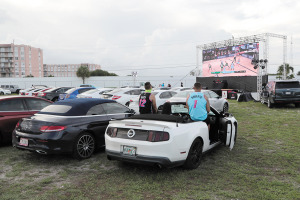 And then there will be those quiet Saturday afternoons. Silence in State College and Columbus and Ann Arbor. Bloomington and West Lafayette. And Lucas Oil Stadium on Dec. 5, where an empty building will sit where the Big Ten Championship Game should be. Maybe not the first hard knock for Indianapolis, which now must wonder with growing anxiety what might happen to the 2021 NBA All-Star Game and Final Four. It could make a Dr. Seuss book: "How The Virus Stole College Football."
We will not see Indiana play Purdue this fall for the first time since 1919, the same year Congress gave women the right to vote. We will not see Minnesota vs. Wisconsin for the first time since 1906. Nor Michigan-Ohio State for the first time since 1917, that series being temporarily suspended after the Wolverines went 12-0-2 in the first 14 meetings. We will not see Lafayette-Lehigh—the longest uninterrupted series in college football—for the first time since 1896. There were only 45 states then.
We might see them in the spring. The Old Oaken Bucket on Easter weekend? Anything is possible, and nothing is certain.
The NFL still plans to go on. But we won't see much tailgating, or the Lambeau Leap, or the visiting quarterback having to use hand signals because the crowd is too loud for his offense to hear him. We will see NFL games in Las Vegas as the Raiders come to town, but they might open their $1.8 billion stadium with no customers in the stands. At Lucas Oil Stadium, the maximum crowd will mean more than 45,000 seats sit empty. If, by then, there is any crowd at all.
We won't see NFL preseason games. Try to contain your grief on that one.
Pro football careers are fleeting, but we will see more than 60 players voluntarily step away from the game for a year. They can cope with the danger of abrasions, contusions, concussions, fractures, sprains, pulls and tears. They don't mind a 300-pound opponent trying to bury them. But a virus too small to be visible to the naked eye scares them. Eight are New England Patriots, at last count.
Then again, who knows if we will see any of the above? Fact is, we don't know what will happen from week to week. The baseball season could just vanish one day. Nobody is sure what will happen in college football, only that its absence will cost schools tens of millions of dollars.
Understand this, the difficult decision to scrub a season will cut a mighty swath, taking out a lot of people's livelihoods. This was never just about high-paid coaches or greedy athletic directors, as was often a common and one-dimensional charge in the media. This will batter the lives of assistant trainers and office workers and maintenance crews and athletic department support personnel and their families. This will cost a lot of athletes their sports.
Sport usually has no set script, and that's what makes it fun. But see how it becomes shocking—and scary, and sad—when the world around it doesn't have a script, either.•
__________
Lopresti is a lifelong resident of Richmond and a graduate of Ball State University. He was a columnist for USA Today and Gannett newspapers for 31 years; he covered 34 Final Fours, 30 Super Bowls, 32 World Series and 16 Olympics. His column appears weekly. He can be reached at mjl5853@aol.com.
Please enable JavaScript to view this content.