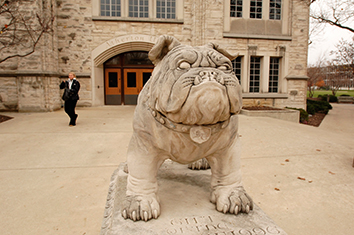 Indianapolis-based Lilly Endowment Inc. has awarded nearly $70 million in grants to help 16 Indiana colleges and universities address long-term priorities, including $10 million each to Butler University and Purdue University.
The grants range from $2.7 million to $10 million and represent the third and final phase of the endowment's "Charting the Future for Indiana's Colleges and Universities" initiative, the philanthropic giant announced Thursday.
The endowment is funding nine large-scale projects with the grants, several of which are shared by more than one school. And several of the projects involve collaborations with community organizations, K-12 schools and employers.
"Indiana's colleges and universities face myriad challenges as they work to fulfill their educational missions while adapting to growing financial pressures, rapid demographic and technological changes, and evolving needs and demands of students," Ted Maple, the endowment's vice president for education, said in a media release.
Butler University is receiving $10 million to fund initiatives in its Butler Beyond strategy, which has a dual purpose: enhancing traditional, residential education for undergraduates while creating new education models for nontraditional students.
"Despite the pandemic, Butler is making significant progress in implementing its current strategy, Butler Beyond," said Butler President James Danko in a media release. "When an organization of Lilly Endowment's stature and prestige recognizes and rewards our vision and progress, it is quite motivating."
The other grants are:
—$10 million to Purdue University for the program Indiana Digital Crossroads, a new statewide network of regional hubs that use data science to bring together students, faculty, industry partners and community leaders. These groups will collaborate to solve regional challenges and help manufacturing companies adopt cutting-edge technologies in automation and data exchange.
—$8.1 million to DePauw University, Rose-Hulman Institute of Technology and Saint Mary-of-the-Woods College for the program MINDful College Connections;
—$2.9 million to Goshen College for the program Expanding Inclusive Education in Elkhart County;
—$6.5 million to Indiana State University for the program Sycamores Achieve;
—$9.8 million to University of Indianapolis, which is collaborating with Anderson University, Indiana Institute of Technology, Martin University, Saint Mary-of-the-Woods College and University of Southern Indiana for the program Improving Student Retention Through Data Analytics;
—$10 million to Valparaiso University and University of Evansville for the program Central Shared Services Organization;
—$8 million to Vincennes University for the program Developing a Workforce Ecosystem of Industry 4.0 in Indiana; and
—$4.5 million to Wabash College for the program Restoring Hope, Restoring Trust.
The Lilly Endowment is one of the largest private charitable foundations in the country. Most of its assets are tied to Eli Lilly and Co. stock, which it was founded with in 1937.
Please enable JavaScript to view this content.