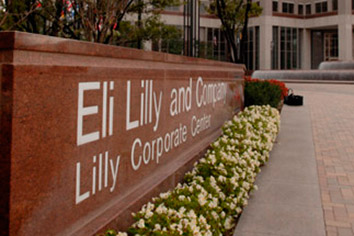 Indianapolis-based Eli Lilly and Co. fell short of earnings estimates in the fourth quarter but boosted its full-year outlook on Tuesday.
Lilly reported a third-quarter profit of $1.11 billion, down 8%, from $1.2 billion, in the same quarter of 2020. On a per-share basis, the company had earnings of $1.22 per share, down from $1.33 per share.
Earnings, adjusted for non-recurring costs, came to $1.94 per share. The results did not meet Wall Street expectations. The average estimate of four analysts surveyed by Zacks Investment Research was for earnings of $1.98 per share.
Revenue in the third quarter of 2021 increased 18 percent over the year-ago period, to $6.77 billion. When excluding revenue from COVID-19 therapies, revenue growth was 11 percent in both the third quarter and year to date.
Lilly said revenue from Trulicity, Taltz, Verzenio and Emgality each grew by more than 30 percent versus the prior year.
Lilly expects full-year earnings in the range of $7.95 to $8.05 per share, with revenue in the range of $27.2 billion to $27.6 billion.
In addition on Tuesday, Lilly said started the process to seek approval from the Food and Drug Administration for its experimental Alzheimer's drug, donanemab. It plans to conduct a Phase 3 clinical trial evaluating donanemab against Aduhelm, Biogen Inc.'s recently approved Alzheimer's drug.
Lilly shares were up $1.46, or 0.6%, to $146.51 each in late-morning trading
Please enable JavaScript to view this content.