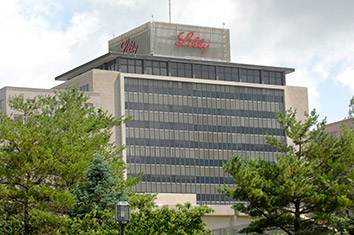 Two years after pledging $25 million and 25,000 volunteer hours over five years to "decrease the burden of racial injustice," drugmaker Eli Lilly and Co. said it has invested $15.6 million toward promoting racial justice and logged more than 30,000 volunteer hours at local not-for-profit organizations.
The Indianapolis-based drugmaker released a report card Thursday that outlined its progress "to support effective solutions" to racial inequity and social injustice.
Lilly and its philanthropic arm, the Eli Lilly and Co. Foundation, made the pledge in June of 2020 amid local protests over the shooting death of a Black man, Dreasjon Reed, by an Indianapolis police officer and the police killing of George Floyd, a Black man in Minneapolis.
In its progress report, Lilly said it has nearly tripled its spending with Black vendors and suppliers, surpassed its 25,000 volunteer-hour pledge two years early, and increased Black employment from 9.6% to 10.2%, toward a goal of 13%.
Lilly added that it has eliminated barriers to jobs by removing requirement for a four-year degree for some jobs through an apprenticeship program.
"Yet, there is still more work to do," the company's 12-page progress report said. "We are still working to make lives better within the communities we serve."
In other milestones in the report, Lilly said it has
Committed $98 million to Black and minority venture capital firms.
Increased spending from $37 million to $74 million with Black business enterprises in Indianapolis.
Developed mandatory training for company leaders on how to develop an "inclusive and psychologically safe" employee culture.
Expanded its partnership with historically Black colleges and universities for recruitment and hosted its first HBCU Day at Lilly for dozens of students.
Hosted more than 150 stakeholders across Indiana to discuss strategies to close gaps in health-care disparities.
"Let our progress serve as inspiration and fuel to stay the course as we live out our commitment to driving purposeful change and addressing racial inequities and injustice," Lilly CEO Dave Ricks said in written remarks.
Please enable JavaScript to view this content.