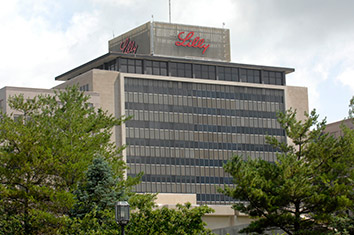 Eli Lilly and Co. said Thursday morning that a much-anticipated experimental drug for obesity helped patients lose up to 22.5% of body weight in a large clinical trial.
The drug, called tirzepatide, has been closely watched by medical professionals and is viewed by financial analysts as possible blockbuster, with potential annual sales in the billions of dollars.
The Indianapolis-based drugmaker said its study for the drug's use for obesity is still in the early stages, but the results of the 72-week clinical trial were encouraging.
Obesity is a serious chronic disease that costs the U.S. health system $147 billion a year, according to the U.S. Centers for Disease Control and Prevention. Adults with obesity have a higher risk of developing type 2 diabetes, heart disease and some types of cancer.
The World Health Organization defines obesity as abnormal or excessive fat accumulation that presents a risk to health. A body mass index (a weight-to-height ratio, calculated by dividing one's weight in kilograms by the square of one's height in meters) of over 30 is considered obese.
The issue has grown to epidemic proportions, with more than 4 million people worldwide dying each year as a result of being overweight or obese, the organization said.
Lilly originally developed tirzepatide to treat type 2 diabetes, and is still waiting to hear from federal regulators before it launches the drug for that medical use. It expects to get an answer before July.
Lilly said its obesity trial enrolled 2,539 patients and was the first late-stage trial to evaluate the effectiveness and safety of the drug in adults with obesity, or overweight with at least one comorbidity, who do not have diabetes.
The average baseline body weight of participants at the beginning of the trial was 231 pounds.
Participants taking tirzepatide lost up to 52 pounds in the study. The drug "achieved superior weight loss" compared to a placebo, Lilly said.
"Obesity is a chronic disease that often does not receive the same standard of care as other conditions, despite its impact on physical, psychological and metabolic health, which can include increased risk of hypertension, heart disease, cancer and decreased survival," said Dr. Louis J. Aronne, director of the Comprehensive Weight Control Center and professor of metabolic research at Weill-Cornell Medicine, in written remarks. Aronne was one of the investigators in the tirzepatide study.
Lilly is hoping to compete against Novo Nordisk's obesity drug Wegovy, an injectable version of semaglutide that showed a non-placebo-adjusted weight loss of up to 16% in non-diabetic patients, according to Evaluate Advantage, a European independent medical newsletter .
Lilly said its drug met its primary endpoints of superior mean percent change in body weight from baseline, and greater percentage of participants achieving body weight reductions of at least 5% compared to a placebo. The study also achieved all key secondary endpoints.
Participants taking tirzepatide achieved average weight reductions of 16% (or 35 pounds) with a 5-milligram dose, 21.4% (or 49 pounds) on a 10-milligram dose, and 22.5% (or 52 pounds) on a 15-milligram dose, compared to a placebo.
In addition, most people in the trial (up to 96% at the highest doses) achieved at least 5% body weight reductions, compared to 28% of those taking a placebo, Lilly said.
The drugmaker said the overall safety profile of tirzepatide was similar to other so-called incretin-based therapies, which reduce post-meal blood sugars.
The most commonly reported adverse events were gastrointestinal-related and generally mild to moderate in severity, usually occurring during the dose-escalation period, Lilly said. Other adverse side effects included nausea, diarrhea, vomiting and constipation.
"Tirzepatide is the first investigational medicine to deliver more than 20 percent weight loss on average in a phase 3 study, reinforcing our confidence in its potential to help people living with obesity," Dr. Jeff Emmick, vice president of product development for Lilly Diabetes, said in written remarks. "Obesity is a chronic disease that requires effective treatment options."
Tirzepatide is a once-weekly injectable in a new class of medicine. It is a peptide, or chain of amino acids, that works by activating the body's receptors for two hormones called GIP and GLP-1.
Lilly said it will continue to evaluate the results of the clinical trial, called SURMOUNT-1, which will be presented at an upcoming medical meeting and submitted to a peer-reviewed journal. It is continuing to study the drug for obesity.
The Phase 3 global clinical development program for tirzepatide began in late 2019 and has enrolled more than 5,000 people with obesity or overweight across six clinical trials, four of which are global studies. Results from three additional studies are expected in 2023.
Please enable JavaScript to view this content.