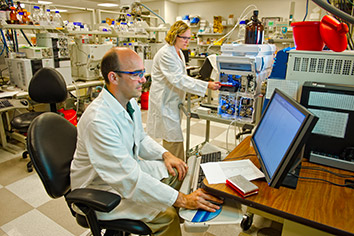 Eli Lilly and Co. is asking federal regulators to approve a new COVID-19 antibody for emergency use, which the company says works against omicron and all other known variants of the virus.
The Indianapolis-based drugmaker said Thursday that the new antibody, called bebtelovimab, is designed for mild-to-moderate cases of COVID-19 in patients who are at high risk of progression to severe illness, including hospitalization or death.
"We've produced several hundred thousand doses of bebtelovimab and stand ready to supply as needed if this antibody receives (approval) from the FDA," Dr. Dan Skovronsky, president of Lilly Research Labs, told analysts in a conference call.
It's the third antibody that Lilly has developed for treatment of COVID-19. In December, the U.S. government paused distribution of Lilly's two previous antibodies, saying they did not appear effective against the omicron variant. Those antibodies, bamlanivimab and etesevimab, were administered together in a cocktail.
Unlike vaccines, the antibodies do not prevent a person from getting infected with the virus, but are designed to neutralize the disease if given after a person is infected. The antibodies are administered through infusions.
Lilly rang up $2.24 billion in sales of bamlanivimab and etesevimab last year, representing about 8% of its total revenue, according to full-year and fourth-quarter results released Thursday morning.
In addition, Lilly said it has submitted a request to the FDA for standard approval of an existing arthritis drug, baricitinib, sold under the brand name Olumiant, to use in hospitalized COVID-19 patients. The drug currently has an emergency use authorization.
On an adjusted basis, Lilly reported a quarterly profit of $2.49 per share, compared with estimates of $2.46 per share. The company also reaffirmed its full-year adjusted earnings outlook between $8.50 and $8.65 per share.
The big sellers in the fourth quarter were diabetes drugs Jardiance (up 38%) and Trulicity (up 25%), along with autoimmune medicine Taltz (up 31%) and COVID-19 antibodies (up 22%).
The company said it had recently seen positive trial results on five experimental drugs that it hopes to launch within the next two years.
"Lilly had a remarkable year of growth and pipeline success in 2021, despite the continued hardships from the pandemic," Lilly CEO David Ricks said in written remarks.
Shares of Lilly fell 1.5% in midday trading Thursday, to $246.98.
Please enable JavaScript to view this content.