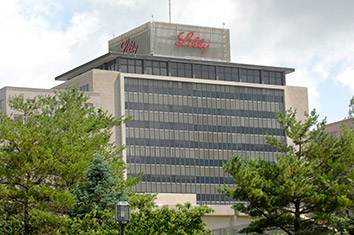 Should Eli Lilly and Co., one of the oldest companies based in Indianapolis, have an independent board chair?
For the third year in a row, an investor is proposing that the pharmaceutical company scrap the tradition of combining the role of chief executive officer and board chair.
A growing number of companies (although still a minority, 36%) in the Standard & Poor's 500 have independent board chairs. The move is meant to keep an independent watch on management and oversee the CEO's performance and leadership.
For Lilly, and many other Fortune 500 companies, having one person serve as the CEO and board chair is practically baked into its DNA.
Lilly family members served as chair of the company's board from its beginning in 1876 until 1969. Most were executives or former executives of the company.
Ever since the last Lilly family member stepped down, one person has been both CEO and board chair, except during brief periods of leadership transition. That includes Lilly's current top executive, David Ricks.
Lilly shareholders voted down a proposal to separate the roles in 2020 and 2021, with nearly two-thirds of votes cast against.
Shareholders will get another chance to weigh in at the company's annual meeting on May 2. (The meeting will be held virtually via a live webcast.)
As in past years, Lilly's board of directors is urging shareholders to vote down the proposal, which is being raised by Legal & General Investment Management America Inc., based in Chicago, which owns 212,515 shares of Lilly stock, or less than 1% of the company's 952.3 million outstanding shares.
"The board is responsible for overseeing the actions of management," says the proposal, as found in Lilly's proxy statement. "They are expected to act as a counter-power and constructively challenge the executive directors. Conflicts of interest may arise when one person holds both the Chair and the CEO positions."
The proposal continues: "Pharmaceutical companies are particularly in need of effective and unconflicted oversight because of the industry's high legal and regulatory risks related to product safety and the industry's commercial practices."
The proposal, if passed, would amend the company's bylaws to require an independent board chair.
Lilly's board says the change is not necessary and that it would lock in a mandatory board leadership structure that would eliminate the board's flexibility to evaluate and adopt an effective leadership structure.
The board pointed out it has a "lead independent director," Juan Luciano, former CEO of Archer-Daniels-Midland, a global food-processing company, who maintains frequent contact with Ricks "to ensure a productive partnership" and leads the independent directors in their oversight functions.
Lilly's 13-member board is completely made up of outside directors, with the exception of Ricks.
The board noted that, last year, it undertook an assessment of its leadership structure and concluded that a combined chair and CEO, coupled with a strong lead independent director, "continues to be in the best interest of the company and our shareholders."
Please enable JavaScript to view this content.