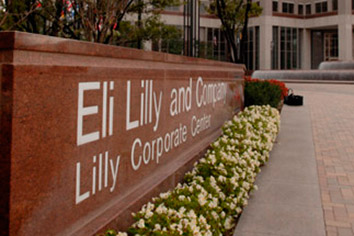 Eli Lilly and Co. has signed a three-year collaborative agreement with a San Francisco-based biotech startup to develop new therapies for amyotrophic lateral sclerosis, a progressive motor neuron disease better known as Lou Gehrig's disease.
Under the deal announced Thursday, Lilly will pay Verge Genomics up to $25 million in upfront payments. But the collaboration could be worth as much as $694 million and potential royalties to Verge if the two companies hit additional milestones.
The deal signals a growing willingness by Lilly to collaborate with young biotechs to jointly develop experimental medicines, rather than trying to do all research and development in-house.
Lilly has its own neuroscience portfolio, which include medicines for schizophrenia, depression and pain. It also has a pipeline of experimental neuroscience drugs for Alzheimer's disease, Parkinson's disease and dementia.
Verge, founded in 2015, uses an artificial-intelligence-powered platform to identify and validate high-potential drug targets.
"Verge Genomics is advancing an innovative approach to identifying high-potential drug targets that are validated through artificial intelligence algorithms and a large library of human data," Michael Hutton, vice president of neurodegeneration research at Lilly, said in a written statement. "This approach complements and enhances Lilly's neuroscience portfolio and will help facilitate development of what we hope will be transformative new therapies for people with ALS."
The average life expectancy of a person with ALS is approximately two to five years after diagnosis and there is currently no cure for the disease, the two companies said. The disorder causes muscle weakness, atrophy and muscle spasms.
The disease is nicknamed after Henry Louis Gehrig, a first baseman for the New York Yankees who was diagnosed with the disease in his mid-30s and died in 1941 at age 37 after playing 17 seasons.
Under the collaboration, Verge will apply its all-in-human platform to discover and validate new targets for ALS. The platform is based on a proprietary collection of patient brain genomic data across a variety of neurodegenerative diseases.
Based on these insights, Verge will apply its human-based discovery capabilities to validate targets. Lilly will select up to four targets identified by Verge with plans to advance through clinical development and commercialization, the two companies said.
"Through this partnership with Lilly, we will examine the use of human data and machine learning to potentially overcome translational hurdles in historically challenging diseases with complex biology," Alice Zhang, CEO and co-founder of Verge Genomics, said in  written remarks.
Lilly shares were down 0.2%, to $235.30 each, in midday trading.
Please enable JavaScript to view this content.