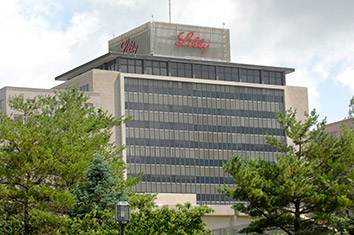 In a deal that could eventually be worth close to a billion dollars, Eli Lilly and Co. is teaming with a British biopharmaceutical company to help develop new medicines for autoimmune diseases—one of the hottest areas in medical research.
Lilly announced Tuesday that it has formed a five-year research partnership with Sitryx, a two-year-old startup based in Oxford, England, that is studying how to regulate cell metabolism to develop medicines for cancer and inflammatory diseases.
Autoimmune diseases are a booming area of pharmaceutical research, as scientists look for new ways to treat conditions in which a patient's immune system mistakenly attacks the body while trying to guard against bacteria and viruses. It's a vast field, including conditions such as rheumatoid arthritis, multiple sclerosis, psoriasis and inflammatory bowel disease. Lilly's announcement did not specify which autoimmune disease the two companies would study.
Under the terms of the deal, Lilly will give Sitryx an upfront payment of $50 million and will make a $10 million equity investment in the British company. Sitryx will be eligible to receive potential development milestones worth up to $820 million if the drugs pass certain clinical, regulatory and commercialization milestones.
In return, Lilly will get an exclusive, worldwide license to develop and commercialize up to four new therapeutics, including Sitryx's two lead projects.
"As Lilly seeks to develop new and unique medicines for people suffering with autoimmune diseases, we are actively exploring a variety of scientific approaches both in our own labs and with external partners," said Dr. Ajay Nirula, vice president of immunology at Lilly, in a written statement. "Regulating the metabolism of immune cells is a promising approach to treating these diseases, and we look forward to working with the talented researchers at Sitryx to advance their novel immunometabolism targets."
Sitryx was founded in 2018 by six researchers in the field of immunology and metabolism. Together they have published more than 1,000 papers in the field. Sitryx has raised $30 million in Series A funding from an international syndicate of specialist investors including SV Health Investors, Sofinnova Partners, Longwood Fund and GSK. The company has a pipeline of projects at multiple stages of drug discovery.
New use for Taltz
Lilly also announced on Monday that the U.S. Food and Drug Administration has approved a new use for Taltz, a hot-selling drug the company launched in 2016 that treats inflammation disorders, including plaque psoriasis and certain forms of arthritis.
The new indication is for treatment of patients aged 6 to 18 with moderate to severe plaque psoriasis, a condition that affects nearly 8 million people in the U.S.
Shares of Lilly edged up 0.04% in midmorning trading, to $138.50 each.
Please enable JavaScript to view this content.