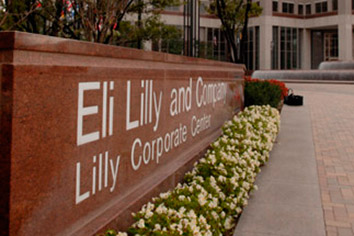 Eli Lilly and Co. is teaming with a Canadian biotech to develop a treatment for COVID-19, the illness spread by novel coronavirus, with a goal of getting an antibody therapy into clinics for human testing within four months.
The Indianapolis-based drugmaker said Thursday that it had entered into an agreement with AbCellera, based in Vancouver, British Columbia, to co-develop antibody products for the treatment and prevent of the disease, which has claimed more than 4,000 lives worldwide.
It's an ambitious partnership for the two companies, as scientists worldwide race to find an effective treatment for the disease. Currently, there is no treatment.
Lilly said it will combine its capability for quickly developing antibodies with AbCellera's "rapid pandemic response platform."
AbCellera said that within one week of receiving a blood sample from one of the first U.S. patients who had recovered from COVID-19, it screened more than 5 million immune cells looking for ones that produced functional antibodies that helped the patient neutralize the virus and recover from the disease.
"From this effort, AbCellera has identified more than 500 unique fully human antibody sequences, the largest panel of anti-SARS-CoV-2 antibodies ever recovered," the two companies said in a joint statement.
SARS stands for severe acute respiratory syndrome, a contagious and fatal respiratory illness caused by coronavirus that spread worldwide in 2002 and 2003, killing more than 700 people in more than two dozen countries.
AbCellera, a private company founded in 2012, is hoping to use its platform to quickly find a way to treat COVID-19.
"In 11 days, we've discovered hundreds of antibodies against the … virus responsible for the current outbreak, moved into functional testing with global experts in virology and signed a co-development agreement with one of the world's leading biopharmaceutical companies," said Carl Hansen, CEO of AbCellera, in written remarks.
Lilly said it is partnering with AbCellera because of the company's reputation for speed and quality.
"While typically a new therapeutic antibody program might take years to get into the clinic (for human testing), our goal with AbCellera is to be testing potential new therapies in patients within the next four months," said Dr. Daniel Skovronsky, president of Lilly Research Labs.
The companies did not say how long the clinical trials might last, nor predict the likelihood that the treatment would be found safe and effective enough to win government approval.
Under the terms of the agreement, AbCellera and Lilly say they have committed to equally share initial development costs toward a product, after which Lilly will be responsible for all further development, manufacturing and distribution.
Please enable JavaScript to view this content.