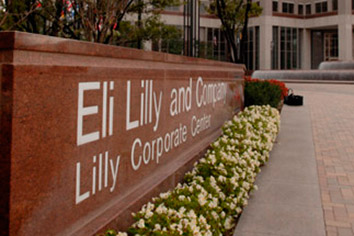 Eli Lilly and Co. announced Friday it will invest more than $1 billion in a new manufacturing plant in North Carolina that will create nearly 600 jobs there.
The Indianapolis-based drugmaker said the plant will make injectable products and devices and increase its manufacturing capacity.
The North Carolina Department of Commerce said it would reimburse Lilly up to $12.1 million over 12 years through its Job Development Investment Grant.
Lilly did not say whether it considered Indiana for the plant, but a spokeswoman pointed out that over the last five years, the company has invested $2.6 billion in Indiana, with over half of that investment occurring in manufacturing. The company now has more than 3,700 manufacturing workers in Indiana.
"Lilly is a global organization committed to manufacturing and delivering life-changing medicines to customers and patients around the world," Lilly spokeswoman Molly McCully wrote in an email to IBJ. "In order for our supply chain to meet the needs of patients and to diversify our talent base, we invest abroad and in locations across the U.S."
Separately on Friday, Lilly announced plans to invest $500 million in a new biopharmaceutical manufacturing facility in Limerick, Ireland.
Together the investments show that Lilly is ramping up its manufacturing capacity to produce a wide array of medicines. The company will report 2021 year-end earnings on Feb. 3 and talk about its pipeline of new products.
Lilly said the additional manufacturing will help meet future demand for new medicines to treat diabetes, Alzheimer's disease, cancer and autoimmune conditions.
The $1 billion investment in Concord, North Carolina, represents one of Lilly's largest manufacturing investments in recent years. Over the last five years, Lilly has invested more than $4 billion in global manufacturing, including more than $2 billion in the U.S.
"Lilly is entering an exciting period of growth and we are committed to delivering innovative medicines to patients around the world," Edgardo Hernandez, senior vice president and president, Lilly manufacturing operations, said in written remarks. "Expanding our manufacturing footprint in North Carolina enables us to continue to produce today's medicines while providing additional capacity to manufacture the medicines of tomorrow."
Lilly said it selected Concord because of the manufacturing technology experience of the local labor force; its proximity to universities with strong science, technology, engineering and math programs; and its access to major transportation infrastructure.
In 2020, Lilly announced a $470 million investment in North Carolina's Research Triangle Park.
Lilly said it plans to create nearly 600 new jobs for highly skilled workers such as scientists, engineers and manufacturing personnel, who will use advanced technology to produce life-changing treatments and devices to make life better for people around the world. It did not provide a salary range for the positions.
In addition, an estimated 500 additional positions will be required while the facility is under construction.
Please enable JavaScript to view this content.