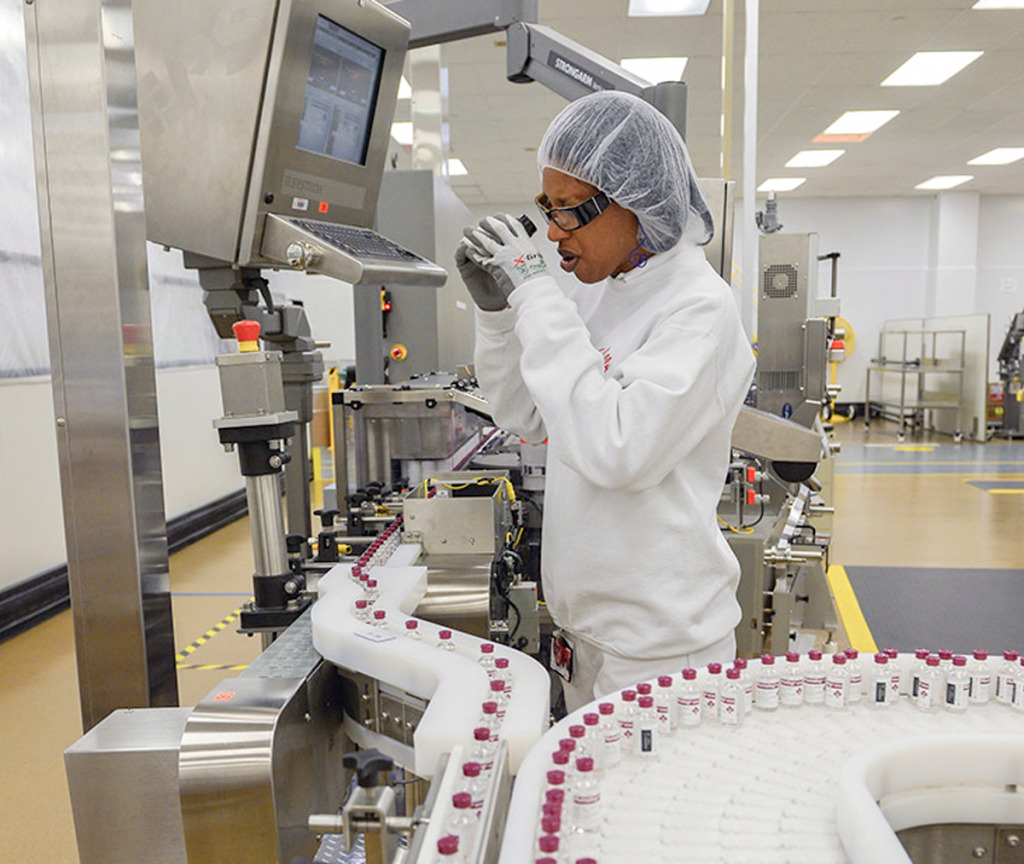 Eli Lilly and Co. plans to invest $2.1 billion in two new manufacturing sites that will anchor a new innovation district in Boone County.
The Indianapolis-based drugmaker said Wednesday the project will create up to 500 jobs in central Indiana, along with up to 1,500 temporary construction jobs.
The planned facilities will increase Lilly's manufacturing capacity for active ingredients and new drug modalities, such as genetic medicines, seen as a promising way to deliver treatments for a wide range of diseases.
"For nearly 150 years, Lilly's operations in Indiana and our continued commitments in the state have enabled us to develop and deliver innovative and life-changing medicines for patients," Lilly CEO David Ricks said in written remarks.
"This investment furthers our commitment to Indiana while also fulfilling our purpose of making life better for millions of people," he added.
The investment marks the first time in more than three decades that Lilly has built a plant on a greenfield site in Indiana, Ricks said.
The company made the announcement at Gov. Eric Holcomb's residence, along with officials from the Indiana Economic Development Corp., Boone County and the city of Lebanon.
"Lilly has been an anchor in Indiana's economy for generations, and this announcement means they will continue to be here for generations," Holcomb said.
Lilly employs more than 36,000 people worldwide, including more than 10,400 in Indiana. The company said that, once it finalizes location plans and begins construction, it will hire workers in various roles to support the operations of the two new sites.
The IEDC said it has identified Boone County as a strategic location for growth and is exploring land-purchase options for a large-scale research and innovation park. It said it is securing land in Boone County to better position the state to compete globally for high-wage careers in high-tech industries.
The state also sees the county as important for development due to its position between Indianapolis and Purdue University in West Lafayette, as well as its proximity to Interstate 65.
State officials earlier this year confirmed efforts to acquire up to 7,000 acres of farmland between State Road 32 and Hazelrigg Road near Lebanon for prospective development efforts.
The area, if approved, would be called the LEAP Lebanon Innovation and Research District, with LEAP being short for Limitless Exploration/Advanced Pace
Molly Whitehead, executive director of the Boone County Economic Development Corp. said Lilly and its suppliers are expected to take about 600 acres on a 980 acre assemblage east of Interstate 65 and north of Lebanon. The site—which is part of the larger innovation district area that mostly lies west of the interstate—would be bound by I-65 to the west; County Road 450 West 450 North to the north; a set of railroad tracks to the east; and County Road West 300 North to the south. There is not currently an interstate exit that gives direct access to the site.
She said the Lilly project, which could total under 1 million square feet between the two buildings, was not initially part of the Leap development. But the two projects merged following continued conversations between the drug maker and state and local officials.
"The Leap Innovation [district] is what really … the state was considering west of Indiana 32," She said. "We were not aware [Lilly] would even potentially be a part of this, but that has since kind of morphed together."
Boone County commissioners released a statement Wednesday afternoon saying they have reviewed Lilly's plans and believe it will benefit county economically. They said they first learned of the state's plans in late February.
"We know the IEDC is actively negotiating with landowners in the immediate area of the project site," the statement said. "So far, the state has already optioned for 800 acres of total land to the north of Lebanon and east of I-65. 600 acres of that land will be utilized for the Eli Lilly manufacturing facility. The additional land will be utilized for a future project that is to be determined."
Future developments just west of Lebanon are still being negotiated by the state, commissioner said.
Ricks said while there's often a lead time of up to four years for many new facilities to come online, he expects development of the Boone County facilities—which will have extensive automated components—will start much sooner, leaving the door open for more rapid engagement from industry suppliers who might want to build near the Lilly properties.
"We have some details to work through before we can start, but we're anxious to get going on the construction phase," he said. "Once that's set up, we put equipment in. This will be a highly automated site using the latest robotics and other technologies to make medicine that takes a while to get configured" and approved by the FDA.
"Suppliers should begin to be impacted as of today's announcement," he added. "I think it's in their interest to locate sourcing of their materials close to Lilly. We'll be working with them over the coming months and year, a lot with Secretary Chambers' office, to try to locate those businesses close by, hopefully."
The IEDC said it is working with Lilly to finalize an incentive package. It said approvals for Lilly's annexation and zoning will be considered this summer.
Lebanon Mayor Matthew Gentry called the project the largest investment in Boone County ever. The property now lies just outside Lebanon city limits, and the city is preparing to annex it to bring it inside the limits, then assign zoning to it.
"It's a transformational project for Lebanon," Gentry said. "We talk about what kind of companies you want in your community, and Lilly is at the top of that list. We're thrilled to have them."
Lilly's announcement comes just weeks after Ricks delivered a speech to the Economic Club of Indiana, laying out the state's shortcomings for economic development. On his list were the state's low marks for K-12 education, the high cost of health care, and the lack of skilled workers.
The speech received widespread media attention and sparked conversations around the state.
"I have to say that the response since then has been really beyond my expectations in the sense that something else I said that day wasn't reported [and] has really come true," Ricks said. "That this is a place where people care about our future. And we care in a way that we work together. And many people in this room and government positions but also in the nonprofit sector, in media, and in the business community came together and asked, how can we support a better future for our state?"
Holcomb called Lilly, founded in 1876 as a drugstore operation by Col. Eli Lilly, "one of the most successful mission-oriented companies in the world."
"And it's headquartered in our capital city," Holcomb said. "The good that Eli Lilly and Co. does is immeasurable."
Drug analysts say Lilly has one of the most promising pipelines of new products in the industry. It has five drugs awaiting regulatory review by the U.S. Food and Drug Administration for diabetes, ulcerative colitis, cancer and other diseases.
The company has more than 20 additional drugs in late-stage clinical trials for Alzheimer's disease, cancer, diabetes, immunology disorders and other diseases.
Lilly has the "most robust new product cycle" in the industry, Morgan Stanley analyst Terence Flynn wrote to clients this week.
Lilly stock is trading near an all-time high, just over $300 a share, with some analysts predicting it could hit $350 a share within 12 months.
The company's announcement comes only a few months after Lilly said it would invest $1.7 billion in two projects in Boston and North Carolina.
Lilly announced Jan. 28 it will invest more than $1 billion to develop a new manufacturing plant in Research Triangle Park near Concord, North Carolina, that will create nearly 600 jobs. On Feb. 22, it said it will spend $700 million to build an institute focused on genetic medicine in Boston's Seaport.
The drugmaker also recently announced plans to invest $500 million in a new biopharmaceutical manufacturing facility in Limerick, Ireland. And in 2020, Lilly announced a separate $470 million investment in North Carolina's Research Triangle Park.
Lilly has generally been mum on whether any of those projects were ever considered for Indiana, but the company has invested $2.6 billion in the state over the past five years—over half of which has been on the manufacturing side.
Please enable JavaScript to view this content.