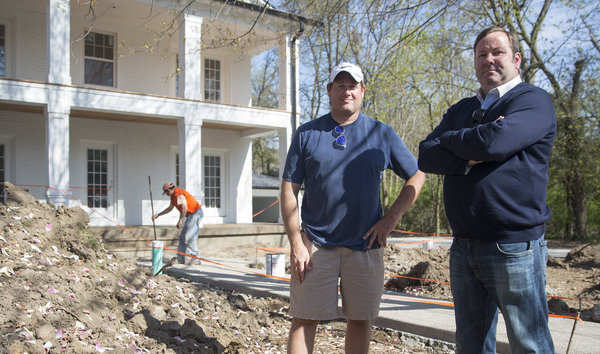 Litz & Eaton Investments LLC principals Brad Litz and John Eaton have gone their separate ways, amid a claim by Eaton that Litz owes him money for work on recent projects and a separate lawsuit accusing the men and their companies of defrauding a client.
Litz, president of Litz Real Estate, and Eaton, owner of construction firm John Eaton Homes Inc., created the development firm in 2011 and have completed a number of projects, including the Penn Row Townhomes. They had several more projects in the pipeline—including Liberty Place at Lockerbie Square—when they split in June.
The public database for the Indiana Secretary of State's office does not indicate a formal dissolution of Litz & Eaton has yet occurred. According to the database, Brad Litz registered a new company in mid-June called Litz Developments LLC.
Eaton confirmed that he is no longer working with Litz "due to more than $2 million in unpaid invoices from John Eaton Homes" on projects with Litz, but he declined to comment further.
Both men also face a lawsuit from former client Jason Bertin, who alleges Litz, Eaton, their companies and associates committed misconduct, negligence and fraudulent activity related to the sale of an "incomplete, poorly designed" home he purchased on the city's north side.
The complaint, filed Monday in Marion Superior Court, names as defendants both Litz and Eaton, along with their associated businesses, Litz Real Estate founder and broker Margaret Litz, and Litz managing broker Jason Snider. Margaret Litz is the mother of Brad Litz.
In the 44-page lawsuit, Bertin claims the defendants partook in "a fraudulent and conspiratorial scheme" and committed multiple breaches of contract and trust tied to his November 2018 purchase of a home in the 600 block of East 82nd Street.
The suit also claims the men, their companies and associates lied to city officials and financial institutions, doctored paperwork to cover up misdeeds, and threatened and defrauded Bertin. The suit also identifies subsequent issues with the property—specifically ongoing drainage and flooding issues connected to the house's construction.
Bertin "was tricked into closing on a transaction that was the byproduct of a fraudulent and conspiratorial scheme" that led him to "close on an over $1.5 million home that was not complete and had serious structural flaws" because the defendants' "financial empire needed that money to continue to survive," the lawsuit says.
In an emailed statement to IBJ, Brad Litz called the situation unfortunate, but indicated he wants a positive outcome.
"I just want to say that these are unfortunate circumstances that I didn't foresee myself being in the middle of, but I am hopeful for a positive outcome for all parties," the statement said. "Beyond that, the resolution process is still very fluid at this time and at the advice of my counsel, I would ask that we continue this conversation at a later date."
When reached for comment, Margaret Litz referred to Brad's statement; Jason Snider could not be immediately reached for comment.
Eaton declined to comment on the legal dispute.
Bertin said he was represented in the sale of his previous home and the purchase of the new home by Litz Real Estate. The home on East 82nd Street was still under construction at the time of its purchase.
The lawsuit alleges:
— Brad Litz pressured Bertin into spending more than $1.5 million on a home, despite his desire to not spend more than $1.3 million. Bertin had already sold his home on Washington Boulevard.
— Litz Real Estate did not disclose it "was not fully representing Bertin's interests" in the purchase of the 82nd Street, which was on a lot owned by Litz & Eaton Investments.
— The parties breached an initial purchase agreement to close on the home Aug. 3, 2018, but "would not let Bertin walk away." They pressured Bertin into signing an amendment to the purchase agreement, moving the closing date back to no later than Oct. 31, with any day after that resulting in a penalty of $100 per day.
— Brad Litz pressured Bertin as well as a loan agent and appraiser into signing off on the closing of the home, even though construction was not completed.
— No one from Litz Real Estate appeared at a Nov. 7 closing to represent Bertin, "despite all the details that needed to be worked out at closing" including a to-do list for John Eaton Homes to finish the home, and warranties for the home that needed to be negotiated. The defendants also failed to pay Bertin $700 he was owed as a penalty for not closing on time. However, a Litz Real Estate agent came to the closing to represent Litz & Eaton Investments.
— After Bertin filed a complaint with the licensing body overseeing Litz Real Estate, one or more of the defendants submitted a "fake" purchase agreement for the property, in which multiple items were changed, including terms of the transaction, the name of the broker, the purchase price, earnest money owed, mortgage loan amount, closing date, and contingencies of the sale. The defendants "individually, collectively, and as part of a civil conspiracy, fraudulently created a document and submitted that" to a banking institution.
— The home had serious drainage problems that should have been resolved properly before the home was completed, but "no one disclosed any drainage issues or potential water problems to Bertin," despite knowledge by the defendants about those issues that led it to work with the city of Indianapolis to find a solution. The home has flooded multiple times since Bertin closed on it, despite multiple assertions by the defendants that the water problem had been resolved.
— Eaton Homes was "not responsive in its contractually obligated duties." Despite agreeing to resolve issues following closing, a number of problems including issues with the kitchen cabinets, office, wine cellar, outdoor kitchen and master bathroom were not resolved by the defendants.
— Eaton, in a recorded statement, "accused Litz and Litz Real Estate of stealing money from Eaton and Eaton Homes to pay Litz's personal liabilities and the liabilities and payroll of Litz & Eaton Investments."
The suit asks the court to rescind the contracts related to the home, reimburse Bertin for the loss of his personal property, interest on that amount, and award Bertin his court costs and attorney's fees.
City officials said a Department of Business and Neighborhood Services inspector visited the property this week and plans to issue violations because a drainage permit has expired and work at the site was not completed in accordance with the original draining plan approved by the agency.
According to previous IBJ reporting, from 2011 to 2014, Litz & Eaton was renovating homes and selling them on a speculative basis. The company then pivoted to building new and selling on spec, and by 2018, contract builds constituted about half of the company's business. Most of the company's custom homes were selling above the $500,000 mark.
When the partnership was formed in 2011, the firm had annual revenue of about $1 million; it was expected to break the $40 million mark in 2018.
Please enable JavaScript to view this content.