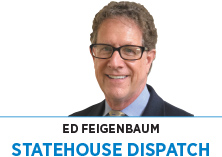 Next week is key in the Indiana General Assembly, as the deadline for passage of bills in their respective chambers of origin marks the effective halfway point of the legislative session.
We'll know after Feb. 4 what bills and major concepts remain alive for consideration—or to function as hermit shells of sort for matters of similar substance seeking a home.
The final week of committee hearings in the initial chamber—which was this week—typically involves a lower level of comity (to put it delicately) than usual as lawmakers scramble at the last minute—and sometimes beyond—to win a hearing for their pet proposals.
This usually entails intramural battles within the majority party, as committee chairs largely control what bills will be heard and committee schedules. The latter responsibility becomes critical as time for adding bills—and devoting appropriate attention to the too many bills yet to be reviewed—shrinks away.
Committee chairs must be patient sorting through these requests. Chamber leaders must display the wisdom of Job in refereeing disputes among their members.
Senate President Pro Tem Rodric Bray, R-Martinsville, like his immediate predecessor, has largely devolved responsibility for committee calendars—substantive and procedural—to his chairs. House Speaker Brian Bosma, R-Indianapolis, has long professed to be hands-off and has publicly intervened on less than a handful of particularly controversial measures in his state-record tenure.
Committee chairs of tenure are accustomed to dealing with the lobby and quickly become adroit at saying "no" to the professional lobbyists prowling the Statehouse. For their part as well, compensated lobbyists understand the system and learn to accept (even if they then seek to circumvent) such decisions.
A new element, however, has been introduced, leaving everyone uncomfortable.
A few years ago, Hoosiers for Life, an extreme anti-abortion group from northeastern Indiana, lashed out at lawmakers for not hearing a "life at conception" measure in committee. Even though the panel chair and Bosma were strongly anti-abortion (and had advocated and advanced effectively everything on the Indiana Right to Life agenda), they couldn't countenance a bill clearly exceeding constitutional boundaries.
Hoosiers for Life then picketed the churches of those two lawmakers back home and activists made their personal lives uncomfortable—so much so that even Indiana Right to Life decried the tactics.
H4L was back again this session with the same demands. With their preferred legislation, authored by Rep. Curt Nisly, R-Milford, not receiving a hearing, lawmakers are bracing for impact.
Similarly, Hoosiers for Gun Rights, a group that has caused the National Rifle Association's local affiliate to distance itself, has been active in trying to drum up grass-roots support for Nisly's "constitutional carry" legislation. The group has deployed a barrage of emails and regional public meetings to stir up the grass roots against Bosma and the same committee chair for failing to grant Nisly's gun bill a hearing (the governor is also on their list). That's even as Rep. Jim Lucas, R-Seymour, arguably the most-pro-gun member, called Nisly's measure too much to ask for last year—earning him HGR's reprobation.
As House deadlines approached, leadership seemed disinclined to cave, and you can expect the two groups to ramp up their respective efforts.
Perhaps it is no surprise that Bosma decided to step down as speaker soon, then resign his House seat yet this spring. There is also talk that the besieged committee chair, who took on the task a few years ago at Bosma's behest, might be looking to relinquish that role in 2021.
The respective lobbying campaigns might have pushed the envelope and been returned to sender, but the groups could perceive victory in perhaps accelerating the departure of recalcitrant leaders. That might embolden others to adopt similar scorched-earth tactics going forward.•
__________
Feigenbaum publishes Indiana Legislative Insight for Hannah News Service. He can be reached at EDF@hannah-in.com.
Please enable JavaScript to view this content.