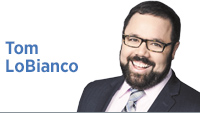 Among my many findings when researching a book about Vice President Mike Pence, the one that seems to generate the most controversy is that he is not a theocratic ideologue.
Based on all my research, Pence is a chameleon, a Zelig—not a hardnosed ideologue.
How did I get come to that conclusion? By researching his earliest political races, his career in radio, his time in Congress, his decision to join Trump and more. One thing I heard repeatedly from former friends and colleagues at various stages of his career was that either they didn't feel like they entirely knew him or that they had a pretty good bead on him as a stereotypical politician—finger in the wind, focused on winning.
In other words, not an ideologue. Because ideologues don't change their tactics and strategies to match the moment. But Pence does. And, guess what? It has worked.
In 1988 and 1990, Mike Pence ran as a GOPAC-trained Republican, running the playbook issued by Newt Gingrich to every serious House candidate across the country.
By 1992, Pence was supporting Pat Buchanan in the internecine fight among Republicans. By 2000, Pence was running as a softer version of the Christian Coalition politicos who had done so well among Republicans. By 2008, he aligned himself more with the GOP establishment again (although the party establishment was also shifting further to the right). In 2012, he morphed into a Mitch Daniels-style Republican technocrat, and finally in 2016, he donned the colors of hard-right populist Donald Trump.
So who is Mike Pence? The guy who understands a paramount lesson in politics: change to win. Is it that stunning that a by-the-book politician would see the lessons of history and move with the tides (on the right) to win?
I'm old enough to remember when both Ted Cruz and Marco Rubio ran as tea party favorites (and were still greatly eclipsed in popularity by Sarah Palin. Remember her?) Also old enough to remember when Donald Trump was a pro-abortion rights Democrat. (And young enough to remember when Caitlin Jenner, Omarosa Manigault and Anthony Scaramucci all sang his praises.)
Trump destroyed the former Florida Gov. Jeb Bush in 2016, and yet his oldest son, Texas Land Commissioner George P. Bush, hopped on the Trump train just a few weeks after Trump won the nomination.
And that's not even getting to every national Democratic leader who spent decades hemming on gay rights and same-sex marriage before "finding religion" on the issue just as national sentiment turned in favor of LGBT rights.
But what about Pence's staunch positions on same-sex marriage and abortion? They are certainly hallmarks of his career and, along with tax cuts, two of the only areas on which he doesn't seem to have wavered. But as I reported in my biography of Pence, "Piety & Power," even those positions had limits—tempered by his cautious approach to campaigning.
In 2012, when he ran for governor, he pointedly refused to answer specifics about how and when he would try to limit abortions. So maybe that makes him a hidden ideologue? Fair question, but even in private, his positions are not entirely rigid. What made him back down in 2015 and sign a fix to the state's Religious Freedom Restoration Act? A phone call from Republican mega-donor Paul Singer, according to my sources. (Singer's spokesman denies the New York hedge-funder ever tried to pressure Pence.)•
__________
Tom LoBianco, a veteran reporter, is author of "Piety & Power: Mike Pence and the Taking of the White House." He previously reported for the Associated Press, CNN and The Indianapolis Star. Send comments to [email protected]

Click here for more Forefront columns.
Please enable JavaScript to view this content.