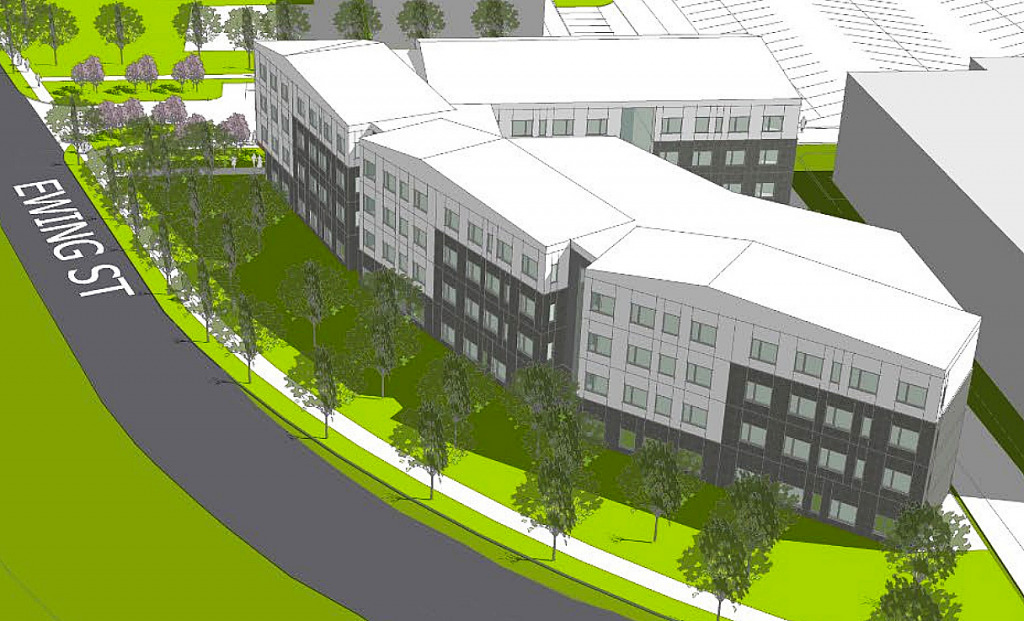 An Indianapolis firm has set in motion plans for a new affordable housing project on the city's east side that would offer 50 apartment units.
Investment company Madison Capital Indiana LLC plans to build the project at 3737 E. Washington St. It would occupy a vacant 1.5-acre parcel next to the former LoBill grocery store that is now home to the Marion County Board of Elections headquarters.
Madison Capital acquired the property—which includes the grocery store and connected parking lot—through a holding company in December 2021 for $1.6 million, according to property records. Last year, the firm through separate limited liability companies also bought the parcels immediately north of that for about $2.8 million total.
Jim Shook, president of Shook Realty Group and a spokesperson for Madison Capital, said the firm is working with the not-for-profit Shepherd Community Center to develop the apartment project, a development cost for which has not yet been finalized.
"The Shepherd Center's mission is to help people rise out of poverty, so Madison Capital is working closely with them to help them achieve that part of their mission," he said. "This is about trying to cater to families, many of whom would may be referred or supported by some of the Shepherd programs."
Shook said the development team plans to apply for Section 42 low-income housing tax credits through the Indiana Housing and Community Development Authority, which would set aside most units for individuals and families making 40% to 50% of the area's median income. (Half of the average median income for a family of four is $45,650.) Applications are due to the state in July, with a decision expected later in the year.
The project will consist of 11 units on the first floor (along with management offices, common areas and bicycle parking) and 13 units on floors two through four. Most of the apartments are expected to be three bedrooms. The property will also have 44 parking spaces and be within a quarter-mile of a Sherman Drive stop along IndyGo's proposed Blue Line.
A representative for Shepherd Community Center did not return a message requesting comment for this story.
Madison Capital has long-term plans to develop another apartment structure on the two parcels it acquired last year, which total 2.3 acres. However, there are no plans to ask the Board of Elections to vacate the property, Shook said.
The spot where the first apartment project is proposed is across South Ewing Street from the 12.4-acre Black Mountain foundry site that has been owned by the city since 2018. The property has been viewed by many residents as a blight to the east side of Indianapolis for decades, serving as a deposit of foundry sand as high as 50 feet in some spots from a former Chrysler plant
Abandoned following a legal fight that involved both the city and the state against its former owners, the property is now a brownfield. The Department of Metropolitan Development in mid-2022 began a public outreach process to determine next steps for that property, including a survey, public meetings and a request for proposals to clean it up.
The apartment project is expected to be considered by the Marion County Hearing Examiner on a rezoning application on Jan. 26. City staff is recommending approval of the request.
"This is going to be one of the more significant projects to happen in that [area] in a very long time," Shook said, noting the project is expected to conclude sometime in 2025.
Ratio Architects is the design firm on the project.
Please enable JavaScript to view this content.