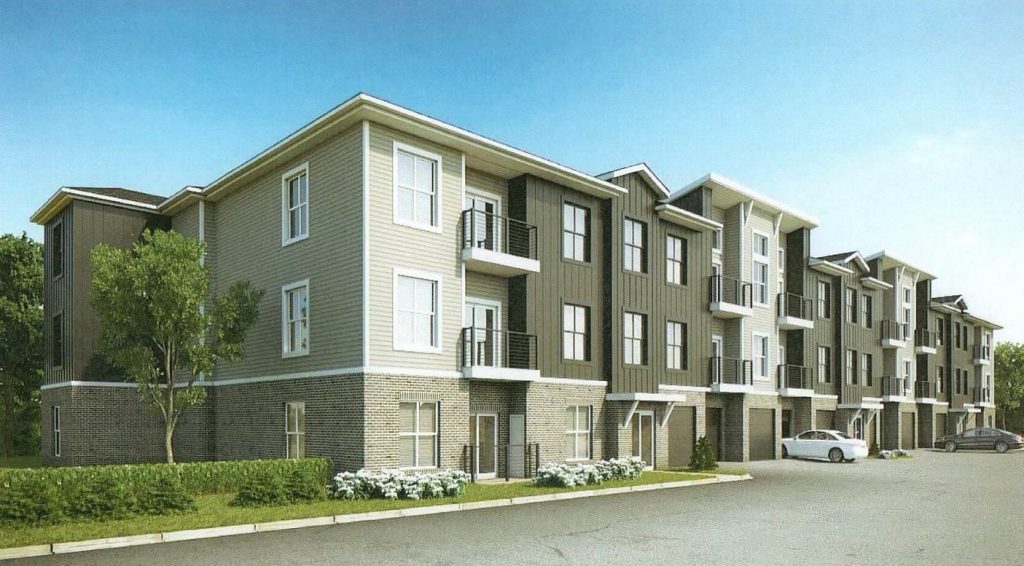 Sheehan Development Co. Inc. plans to construct an apartment complex with nearly 400 units on the far-south side of Indianapolis as part of a larger mixed-use development.
Locally-based Sheehan is seeking approval from the city's Metropolitan Development Commission to rezone about 137 acres of land on the northwest corner of South Arlington Avenue and East County Line Road—directly east of Interstate 65—for a project with multifamily, commercial and light industrial uses.
The 19.5-acre apartment complex, accessible from South Arlington Avenue, would have 384 studio, one-, two- and three-bedroom units in 12 three-story buildings, according to filings with the city's Department of Metropolitan Development. A rendering for the project shows some units would have covered parking or garages.
The development also would feature a clubhouse with a fitness facility, community pool and leasing office near its main entrance. The firm has not said how much it is spending on the project.
According to a preliminary development statement from Sheehan, the project is expected to contain about 48 studio units, 150 one-bedroom units, 156 two-bedroom units and 30 three-bedroom units.
The development won't be limited to apartments. According to a traffic impact study conducted at the city's request, additional plans include 65,000 square feet of light industrial, a 100,000-square-foot office building, a 135-room business hotel and a 97,500-square-foot shopping center.
Most of the land on the southern and western portions of the property is expected to feature a mix of light industrial and commercial uses, accounting for about 78.5 acres.
A conceptual land use plan shows the developer hopes to build about five outbuildings for commercial or light-industrial use along East County Line Road,  along with two additional commercial structures immediately south of the apartment complex.
Another 39 acres to the north of the apartment complex are expected to have C-1 commercial uses, which would allow for most retail businesses, as well as restaurants, grocery stores, and professional office space.
The developer would be required to provide an updated land use plan to the city before beginning work on those elements.
The traffic study—which itself was not included in public filings—recommended new lights and additional turn lanes along South Arlington Avenue and East County Line Road.
Sheehan first sought approval for the project from the MDC Hearing Examiner in August, but a decision was delayed five times as the city gave the developer more time to work with neighbors and to conduct its traffic study.
The request, which would rezone the land from D-A and C-4 uses into a C-S, special commercial, district is expected to be heard by the MDC during the commission's Wednesday meeting. It is recommended for approval by city staff, provided Sheehan makes the following commitments:
— a right turn lane for the southbound lane of Arlington Avenue into the apartment complex;
— an updated site plan for the entire property prior to starting construction on the multifamily or commercial elements;
— a wetlands delineation for part of the property;
— a tree assessment and preservation plan;
— an updated development statement that excludes certain commercial uses requested by staff;
— and updated building elevations for the multifamily development.
Avon-based Sebree Architects Inc. is the designer on the project.
Representatives for Sheehan did not return a call requesting comment.
Please enable JavaScript to view this content.