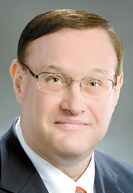 The Indiana Chamber of Commerce on Thursday announced retirement plans for Kevin Brinegar, who has led the statewide business advocacy as president and CEO for the past 20 years.
Brinegar will retire on Jan. 5, 2024, the organization said. An extended time frame was requested by the chamber's executive committee to allow time for a thorough national search for Brinegar's successor.
Brinegar joined the chamber as a lobbyist in November 1992, became chief lobbyist and senior vice president of government affairs in 1997, and president and CEO in 2002.
Before joining the chamber, he spent nine years as a financial analyst for the Indiana Senate Finance Committee and three years as a management analyst for the Legislative Services Agency.
"Under Kevin's guidance, the Indiana Chamber has become one of the top chambers of commerce in the nation by any measure," Indiana Chamber Chairman of the Board John Thompson said in written remarks. "When it comes to public policy, the state's business climate has never been better."
Brinegar said the board will  choose a committee made up of board members who will retain a search firm to conduct a national search.
"Leading the Chamber has been the perfect job for me–allowing me to use my prior experience in state government and passion for public policy on behalf of the business community to promote prosperity and economic opportunity for the people and enterprises of Indiana," Brinegar said in written comments. Indiana is a much better place to do business, grow jobs and raise families than it was at the turn of the century. For those accomplishments, I am most proud."
Please enable JavaScript to view this content.