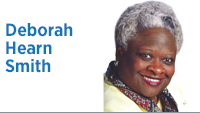 To remain focused during this time of mass confusion and high drama is a challenge for the most engaged citizens. The importance of all the issues makes it difficult for us to prioritize our concerns and focus our efforts. Fatigue and overload are likely responses to the current climate: Impeachment, Syria, the Ukraine, the environment—it's all enough to have us scurrying for cover.
None of these issues can be ignored because each has long-term impact on our national future. But while we stay informed and engaged on these issues, let us not turn a blind or apathetic eye on the issues close to home.
The saying goes that all politics is local and this is the perfect time to be fully engaged in the local scene. We are just days away from an election that will have a direct, immediate and long-term impact on the quality of our daily life. Local issues are education, crime, public safety, recreation, transportation, and the growing diversity of our city.
The status of the African American community on this list is not comprehensive but illustrates some of the decisions before us.
The list is long and complicated, but the good news is, these are all issues for which we don't need to wait on Washington to act. Each of us holds the key to the way these are addressed and resolved. We have the vote.
Let's look at a couple of issues to illustrate the point. Education has more decision-makers than ever before: The Mind Trust, the Mayor's Office, the school board and the state. Do these organizations and their leadership know how you want our education system to proceed? Are your thoughts and opinions heard as a parent and citizen?
Your opinion counts at the ballot box. Know the position of each candidate on education and vote for the person or team that best reflects your view.
The issues concerning women are too often on the back burner. Check with Women4Change Indiana to see the current status of women in Indiana. The wage gap in Indiana is real and not getting much attention from those running for public office. This is an example of an issue with both local and national ramifications and solutions.
Public safety is key to a thriving community. Do you know how the candidates plan to tackle this problem? I want to point you to an excellent article written by Marshawn Wolley about the decline in the African American community in Indianapolis ["Black Indy is dying; candidates should pay attention," Forefront, Oct. 11]. He brings up key areas of concern for all citizens. If any segment of our city is in decline, we all are affected.
To this end, I applaud the mayoral debate that the African American Coalition of Indianapolis sponsored on Oct. 21. It offered an opportunity for citizens to come out and express their concerns and hear the candidates' plans and responses. Remember, we are on this ship together and we will rise or fall as one.
I am not suggesting we all agree on the issues or solutions; however, we all have a chance to get off the sidelines.•
__________
Smith is former CEO of the Girl Scouts of Central Indiana. Send comments to ibjedit@ibj.com.

Click here for more Forefront columns.
Please enable JavaScript to view this content.