March Madness is upon us. The weather is starting to warm up, meaning patio dining is much more comfortable than it was a few months ago. If you're comfortable dining at a restaurant but would rather do it outside, IBJ has compiled a list of some of the restaurants in the area with outdoor dining options. We're also including a few that offer secluded dining, either in a pod or igloo. 
Half Liter BBQ, 5301 Winthrop Ave. 
Half Liter has an outdoor dining area with picnic tables, landscaping and fire pits if it's just a little too cold for comfort. 
1718 Bates-Hendricks House Bar, 1718 S. East St. 
1718 Bates-Hendricks House Bar offers open air outdoor dining and also has a tent with heaters to offer some protection from the wind if temperatures get too cold.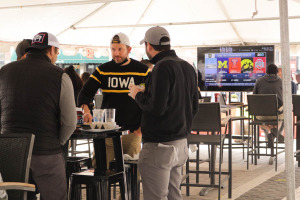 District Tap, 141 S. Meridian St. 
Even before COVID-19, District Tap downtown had some outdoor dining. Throughout the past year, the establishment has expanded outdoor dining into Georgia Street. That could happen again this month as the city has closed Georgia Street for the duration of the tournament. 
Baby's, 2147 N. Talbott St. 
Baby's has a heated, enclosed patio if it's too cold to eat outside, but the burger joint also has a great outdoor area for warmer days and nights. 
Ellison Brewing Co., 501 Madison Ave. 
During the winter months, Ellison Brewing Co. has had igloos outside for guests, but the brewery also has a welcoming outdoor patio. 
Four Day Ray Brewing, 11671 Lantern Road, Fishers 
If you're willing to drive to the suburbs, Carmel and Fishers have some outstanding outdoor dining options. Four Day Ray Brewing in Fishers offers guests the opportunity to dine in igloos on their patio. But you'll want to make reservations ahead of time because they book up quick. 
Strange Bird, 128 S. Audubon Road 
In Irvington, Strange Bird has set up storage pods for outdoor dining. They seat 2-6 and have sides that are open to allow fresh air in, meaning if it's cold, you'll want to bring a jacket or blanket. The best part? They're dog-friendly! 
Brothers Bar, 255 S. Meridian St. 
Brothers Bar downtown has a partially open patio that's recently reopened. It's even got a firepit if it gets too cold. 
The Tap Brewery, 306 N. Delaware St. 
The Tap on Mass Ave. has a patio decked out with landscaping, festival lights and even fire pits when it's cold.  
Bru Burger Bar, 410 Massachusetts Ave. 
Bru Burger on Mass Ave. had an outdoor patio long before COVID-19. It's heated, has comfy seating and is dog-friendly.
Festiva, 1217 E. 16th St. 
This Mexican restaurant has a covered, heated patio as well as an enjoyable outdoor space. 
Public Greens on the Monon Trail, 900 E. 64th St. 
Public Greens has private greenhouses you can reserve but it also has an outdoor patio with a firepit. 
Mama Carolla's, 1031 E. 54th St.
When it's warm, eating outside at Mama Carolla's can be such a treat. Throughout the pandemic, the Italian joint stood up tents with heaters to give themselves more space to safely serve customers. When it's cold, the sides come down, but on nice days, it's open air.
Please enable JavaScript to view this content.