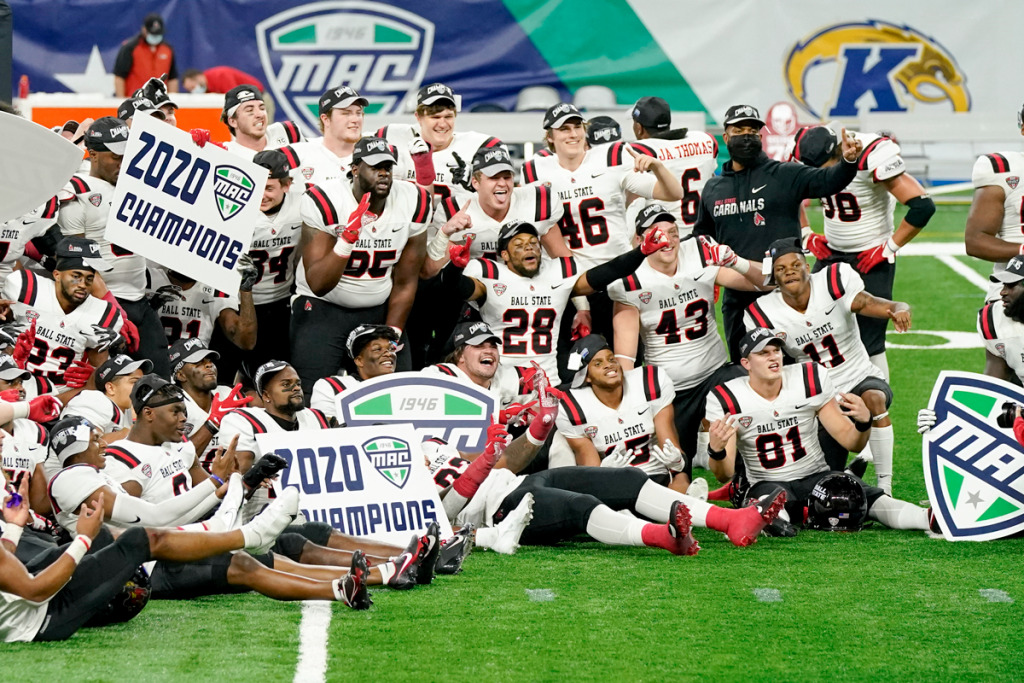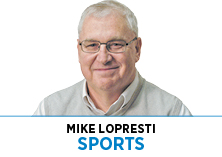 Never mind "Auld Lang Syne." To finally get rid of 2020 next week, maybe a simple sigh of relief would be better. And yet … it hasn't been all virus and vitriol and bad news has it?
Not in sports, anyway. True, there was no Wimbledon, no NCAA Tournament, no Olympics, no Old Oaken Bucket. Looks like no Rose Bowl in Pasadena. That hasn't happened since 1942, when the West Coast was fearful of Japanese air raids after Pearl Harbor.
A lot of the crowd noise had to be piped in this year, and a lot of the smiles were hidden behind masks. Cutouts sat where fans were supposed to be, and games were canceled at the last minute. Gonzaga came to Indianapolis from Washington state and Baylor from Texas to meet each other, but had their game aborted 90 minutes before tipoff, when they were already at Bankers Life Fieldhouse.
But there were good times and important feats, too. And it was seldom boring.
In 2020, a Vanderbilt coed kicked PATs in an SEC game, and a 42-year-old Zamboni driver had to be pulled out of the crowd to play emergency goalie for an NHL team.
In 2020, NASCAR drivers competed in virtual races, with virtual pit stops and virtual crashes, from their living rooms. NFL Draft picks were announced from the commissioner's basement.
In 2020, Florida lost a football game when one of its defensive backs picked up the cleat of an LSU player and hurled it down the field, the ensuing penalty keeping a Tigers drive alive. The best tennis player in the world, Novak Djokovic, was booted out of the U.S. Open when he swiped at a ball in anger and accidentally nailed a line judge in the neck.
In 2020, the calendar came from an alternate universe. The Masters was played just before Thanksgiving, and Tiger Woods got a 10 on a par 3. The Indianapolis 500 was run during the dog days of summer and ended on a yellow flag. The Los Angeles Lakers won the NBA Finals on the second weekend of October, and the Pac-12 started its football season on the first Saturday of November.
In 2020, North Carolina finished last in the ACC in basketball. The Cleveland Browns and Buffalo Bills were on course to make the NFL playoffs, but not the New England Patriots. The Chicago White Sox, Toronto Blue Jays, Miami Marlins and San Diego Padres—who combined to lose 381 games the year before—qualified for baseball's postseason, but not the defending World Series champion Washington Nationals. The Miami Heat, fifth seeded in their own conference, made it to the NBA Finals, going 12-3 against the East and 4-0 against the Pacers. And the Dallas Stars, 26th out of 31 NHL teams in goals scored, advanced to play for the Stanley Cup.
In 2020, Tom Brady, the face of the New England Patriots for two decades, ended up in Tampa Bay. Philip Rivers, forever a Charger, became a Colt.
In 2020, the Kansas City Chiefs won in their first Super Bowl appearance in 50 years. It was the last major championship decided in America before the COVID darkness fell. The Bills won their first division title this century. The Los Angeles Dodgers won their first World Series title in 32 seasons. They had to pull their third baseman off the field in the eighth inning of the clinching game because his virus test came back positive, and when Justin Turner returned afterward to celebrate with his teammates, the baseball community gasped.
In 2020, Kim Ng, born in Indianapolis, raised in Queens, once a softball player at the University of Chicago and an intern with the White Sox, became general manager of the Miami Marlins. She's the first woman to ever hold such a position for a team in any of the four main professional sports.
In 2020, Kentucky started the basketball season 1-5, which hadn't happened since Prohibition and the Calvin Coolidge administration. Duke, which recently had gone 20 years without dropping a non-conference game at home, lost two of them in eight days. No. 1 and No. 2 in the polls, Gonzaga and Baylor, had to temporarily shut down their programs because of virus concerns. All 15 players on the Houston Cougars roster tested positive.
In 2020, the NBA's biggest achievement was to stage its entire postseason without one positive COVID test. The league spent a reported $180 million on its Disney World bubble to do it.
In 2020, the Pacers changed coaches, if not first names. Out went Nate McMillan, in came Nate Bjorkgren. Meanwhile, Frank Vogel became the fourth man who could say he once coached the Indiana Pacers and also won the NBA championship for somebody else. For Vogel, leading the Lakers was even more glorious than his appearance on David Letterman's show as a kid, when he showed how he could brush his teeth while spinning a basketball on the other end of the brush.
In 2020, on the last weekend before Christmas, Indianapolis hosted a ranked team from Richmond, Virginia, playing college basketball in the Indiana Convention Center; the Crossroads Classic with Butler, IU, Purdue and Notre Dame in Bankers Life Fieldhouse; and the Big Ten football championship game with Ohio State and Northwestern in Lucas Oil Stadium. All in the same 24 hours, but the general public wasn't allowed in to see any of them.
In 2020, the Old Oaken Bucket was canceled. Twice.
But still, football thrived in the state of Indiana. IU had its best season in more than a half-century and inspired a statement that might never have been uttered in the history of the program: In 2020, the Hoosiers were shafted out of a premier bowl game. Meanwhile, Notre Dame grabbed a spot in the college playoff, even after getting blown away by Clemson. The Colts are advancing toward the NFL postseason, where they will be dangerous.
And then there's Ball State. In 2017, the freshman class was part of a football program that went 0-8 in the Mid-American Conference. In 2020, as seniors, they just won the MAC championship game. The Cardinals didn't begin the season until Nov. 4, were beaten in the opener at Miami in the last 10 seconds, but never lost again. The last four games, they played Toledo, Central Michigan, Western Michigan and Buffalo—at the time, the Nos. 16-, 28-, 7- and 1-scoring teams in the nation. The defense held them 18.5 points under their average and had 34 tackles for loss.
So, 2020 could be bright on the sports landscape. A year to celebrate and fondly remember in the football offices at IU and Ball State and Notre Dame. But for others, not so much.
In 2020, someone put together a remarkable lineup of all-time baseball greats that included Bob Gibson, Tom Seaver and Whitey Ford as starting pitchers, Dick Allen at first base, Joe Morgan at second, Tony Fernandez at short, and Al Kaline and Lou Brock in the outfield.
All of them died in 2020.
So did my wife of 44 years.
You can have 2020. Left alone in a pandemic with only memories for company, here's one person who won't be sorry to see New Year's Day.•
__________
Lopresti is a lifelong resident of Richmond and a graduate of Ball State University. He was a columnist for USA Today and Gannett newspapers for 31 years; he covered 34 Final Fours, 30 Super Bowls, 32 World Series and 16 Olympics. His column appears weekly. He can be reached at mjl5853@aol.com.
Please enable JavaScript to view this content.