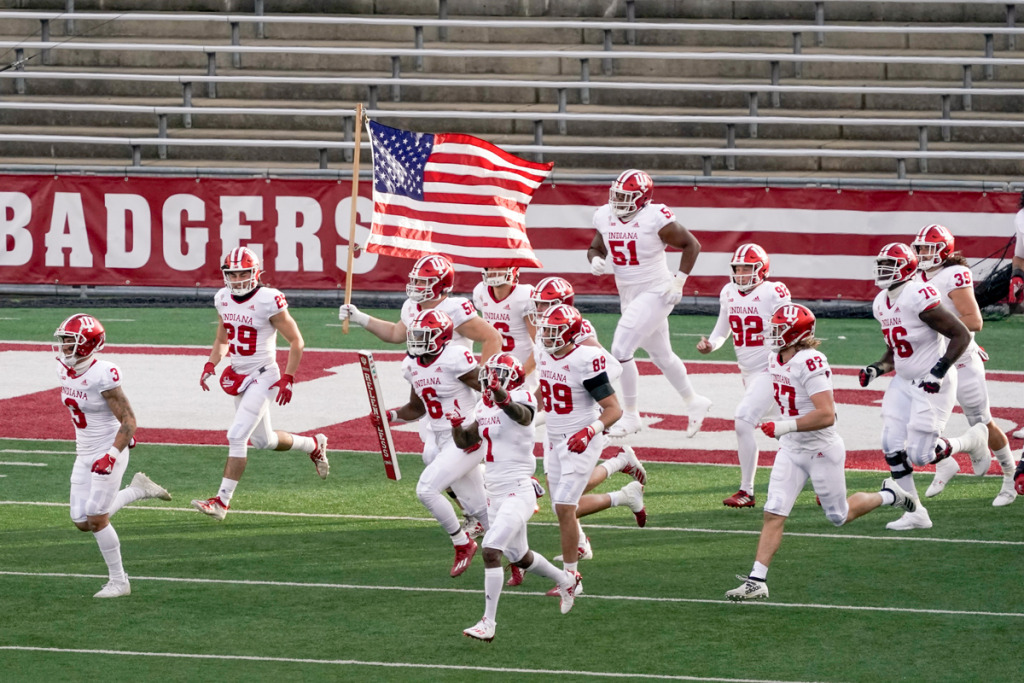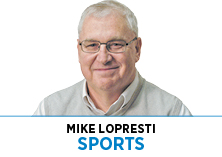 So how to begin a story about the T-Rex that Indiana University football has become?
Once upon a time …
Yeah, that might work, since any season we're talking about Indiana being ranked above Oklahoma, Georgia, Texas, LSU, USC, Penn State and Wisconsin in the polls, or playing in the Fiesta Bowl, has a fairy-tale feel to it. Or maybe:
A long time ago, in a galaxy far, far away …
IU football a topic of nationwide conversation, with Tom Allen a reasonable candidate for national coach of the year? Certainly seems like something light years from the norm. But that might not be quite right, either. Try:
It was the best of times, it was the worst of times …
That's it. With the world in gloomy chaos, and our lives at the mercy of microbes, and a football autumn battered by positive virus tests, here is a sunny Indiana season with glory not seen for decades. If ever. The seats are empty, the success is emphatic.
But never mind the words. Even with the Old Oaken Bucket scratched—not even tradition is immune from COVID—we can still have numbers tell the tale of Indiana football 2020. You've heard about this trend broken, or that dry spell ended, or another barrier shattered in Bloomington. But it's really remarkable when you start stacking them together.
6-56: Indiana's record this century against Michigan, Michigan State, Penn State and Wisconsin coming into 2020.
4-0: Indiana's record against that foursome in 2020.
3: Rushing touchdowns allowed by the Indiana defense the entire season to any team not named Ohio State.
11-3: Indiana's record in its past 14 Big Ten games.
34-134: Indiana Big Ten record in the 21 seasons before Allen joined the staff in 2016.
0-28: Indiana's record on the road against ranked Big Ten opponents going back 19 years. Until Dec. 5 at Wisconsin.
1945: The last time Indiana beat three ranked teams in one season. Until now.
6: Indiana conference victories this season.
6: Conference victories this season by Michigan, Michigan State and Wisconsin combined.
51.2: Wisconsin's average score during the Badgers' 10-game winning streak over Indiana coming into this season.
6: Wisconsin's total points on Dec. 5.
1919: The last time Indiana and Purdue didn't play in a season, or one year before women were given the right to vote.
10: Big Ten teams with only two league victories through week 7. While those 10 teams had 20 combined wins, Indiana, Ohio State, Northwestern and Iowa had 21.
17: Interceptions by the Indiana defense, to lead the nation. Of the 127 FBS teams listed in the NCAA stats, 100 haven't even reached double figures in interceptions.
132: Completions against Indiana by opposing quarterbacks. Meaning a pass gets picked off by IU for every 7.8 catches.
124: Career starts by the Indiana secondary, so it's a veteran den of thieves.
8: Number of different Hoosiers who have swiped at least one pass.
9: U.S. presidents since Indiana was last ranked in the top 10.
0-27: Indiana's home record against top-10 opponents going back to 1967. Until the season-opening win over Penn State.
0-41: Indiana's record against top-10 opponents since 1987. Until Penn State.
3: Indiana coaches who have won six Big Ten games in a season, with Allen the newest.
12: Men who have walked on the moon.
5: Indiana shutouts by the defense since Allen's first full season as head coach in 2017.
4: Other programs in the nation that have had that many. One of them is named Alabama.
33: Seasons since Indiana last had a Big Ten coach of the year in football, with Bill Mallory in 1987.
10: Big Ten schools that have produced a coach of the year since Mallory.
2: Indiana Big Ten coach of the year awards the past 40 seasons. Mallory twice.
1: Ohio State Big Ten coach of the year awards, the past 40 seasons. Ryan Day in 2019. Jim Tressel never won it; Urban Meyer never won it. Amazing, huh?
5: Times Indiana had scored as many as 24 points in a game against Michigan in the previous 52 years.
24: Indiana's point total at halftime on Nov. 7, when the Hoosiers snapped a 24-game losing streak to the Wolverines.
57.9: Percentage of times, 11 out of 19, that the opponent has scored when getting into the red zone against Indiana. That's not much. Matter of fact, it's lowest in the nation.
11-2: Record this season for Big Ten quarterbacks who have ever started a game for IU. Michael Penix Jr. and Jack Tuttle for the Hoosiers, certainly. But also Northwestern's Peyton Ramsey. So now it's Quarterback U. in Bloomington? If only Indiana could play Northwestern in the Big Ten title game. Not only would the team matchup defy all rules of the universe, it'd be the present IU quarterback going against the former IU quarterback for the conference title. Think of the odds of that a year ago.
6: Coming into this season, games IU has played in the past 74 years as an Associated Press top-10 team.
5: Games this season IU could conceivably play as a top-10 team, if the Hoosiers keep winning.
1: Games in the 21st century IU had played as a ranked team, out of 240, coming into this season.
7: Consecutive games this season IU will play as a ranked team with its next contest.Assuming there is a next contest. That hadn't happened since 1945, the same month World War II food rationing ended.
65-24: Indiana's scoring advantage this season in points off turnovers.
18: Indiana head football coaches in the past 99 years, before Allen.
1: Indiana head coaches in the past 99 years with a winning record.
24-21: Tom Allen's current record at Indiana.
1: Missed Indiana kicks this season, counting either field goals (8-for-9) or PATs (23-for-23).
3: Field goals successfully kicked against IU this season, all three the past two weeks.
23: Sacks by Indiana defense.
8: Sacks allowed by Indiana offense.
33: Kane Wommack's age, making him the youngest defensive coordinator in the power-5 conferences.
4: Indiana receivers who have been in on pass plays of at least 51 yards.
29: Years since Indiana has won a bowl game, going back to 1991. That'll soon be the next item on the year's to-do list.
46: Players on the Indiana roster who come from the same states as SEC schools, including 22 from Florida alone. To understand the importance of that, well, look at all these other numbers.
39: Players on the roster from Indiana. Home-grown talent is nice, too.
997: Average attendance at Indiana's first three home games, with admittance severely limited. What a lousy time to have to keep the public outside.
36: Days between the Big Ten announcing there would be no football this season on Aug. 11 and changing its mind on Sept. 16. Think about this a moment. If there had been no reversal, this Indiana magical epic never happens.•
__________
Lopresti is a lifelong resident of Richmond and a graduate of Ball State University. He was a columnist for USA Today and Gannett newspapers for 31 years; he covered 34 Final Fours, 30 Super Bowls, 32 World Series and 16 Olympics. His column appears weekly. He can be reached at mjl5853@aol.com.
Please enable JavaScript to view this content.