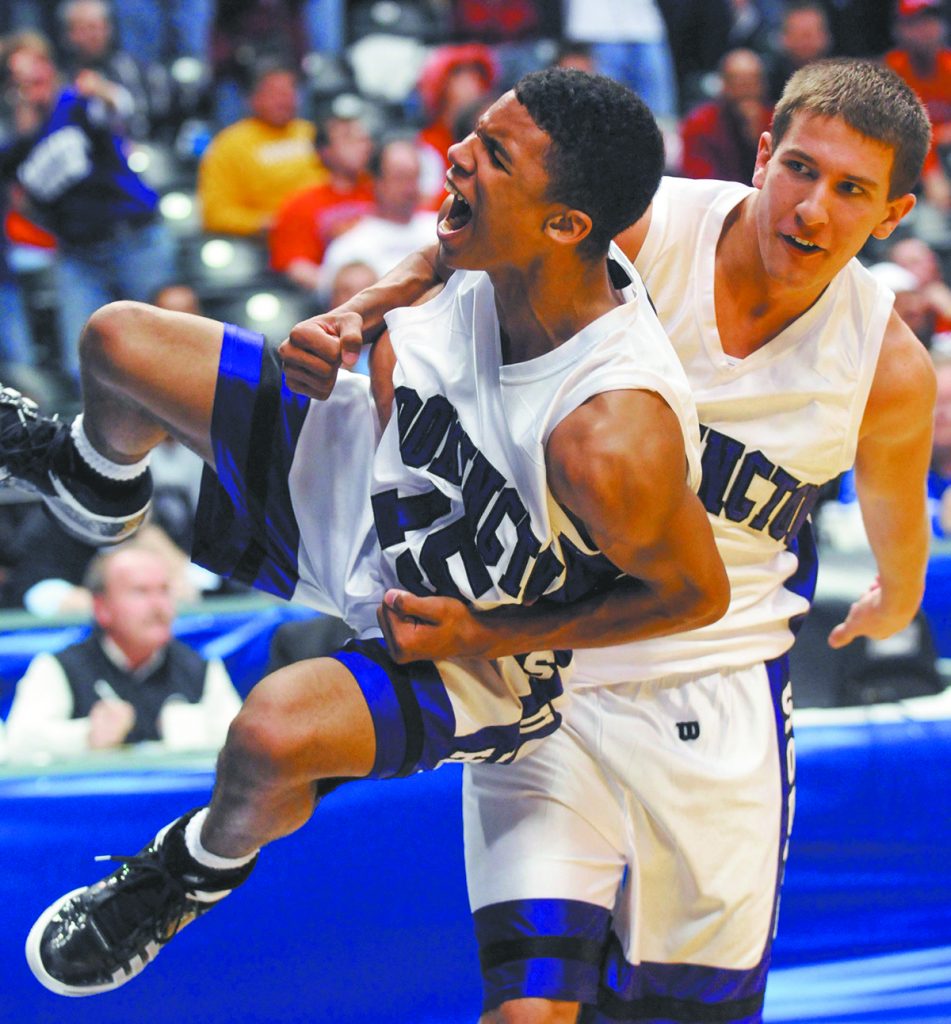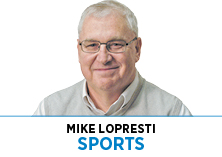 In the old world, there would have been a boys' basketball state finals this weekend, with Bankers Life Fieldhouse a place of noise and joy. Instead, the building is dark and silent, now that a virus has done what two world wars could not: Turn out the lights and lock the doors on Hoosier Hysteria.
Which gives us time to discuss the Perfect 13. It is a most exclusive club, and once admitted, the members stay forever. If there can be no state finals this weekend, at least maybe we can remember the teams nobody could beat.
Indiana has 175 boys' basketball state champions in its history. Only 13 can say they were handed their trophy with a record of something-and-0. Only 13, in a tournament that has seen 109 years, and now one stop-everything pandemic. The last team to do it was Warren Central in 2018, and Criss Beyers—now at Franklin Central—was the Warriors' coach.
"It will mean more as time goes on, I think," he said. "Not that it doesn't mean anything now. That is something special and it's something to be proud of. Like I told our kids, they can never take away the state championship, and they can never take away 32-0."
Or this from Jason Delaney, now at Indianapolis Cathedral but in 2004 at Waldron, when the Mohawks became the smallest school—223 students—to pull it off: "Every March 27, I get a text from some of the players saying 'Happy Anniversary.' That bond is forever."
Or this from Mike Artis, who played for East Chicago Roosevelt 50 years ago when the Rough Riders went 28-0: "As the years have dribbled away, you always look back at that and it becomes more special. When you're playing in the moment at our age, you're just trying to win games and have fun. You're glad you won the state championship and the fact you went undefeated is great. But it never does dawn on you that, years later, you'll look back and think, how many teams have actually done this?"
Thirteen. Here they are.
Attucks, 1956. It took 46 tournaments to get the first unbeaten champion, but could there have been a more worthy barrier breaker, with Oscar Robertson in the lead? The Tigers almost did it twice, losing only at Connersville the year before, by one point.
South Bend Central, 1957. The Bears nearly started 0-1, having to go overtime to beat Gary Roosevelt in the season opener.
Indianapolis Washington, 1969. George McGinnis, Steve Downing, et al. In a Final Four with a combined record of 110-1, the Continentals, who had been steamrolling opponents by an average of more than 30 points, had to complete the mission with victories of one and three points.
East Chicago Roosevelt, 1970. The Rough Riders' feat, with Jim Bradley one of the best players of his era, sometimes gets overlooked in history because of the marquee wattage of the unbeaten champions—Indianapolis Washington and East Chicago Washington—who came the year before and the year after. It was a trifecta of perfectas.
"To be sandwiched in between those two teams, our team gets lost in the fray. I kind of felt like we were forgotten," Artis said. "Those two other teams, I don't think any of them can say they went 28-0 with all away games. We might be the only undefeated team in the state ever to win all of their games away. Our home court was in renovation that year. Our home games were played at East Chicago Washington gym and we never practiced there, not one day."
Their three-point sectional win over rival East Chicago Washington was epic. "We looked at that actually as the state championship game," he said. No wonder …
East Chicago Washington, 1971. Three starters—Pete Trgovich, Junior Bridgeman and Tim Stoddard—went on to play in the NCAA Final Four. This was the last state finals held in Hinkle Fieldhouse. Trgovich, who scored the final basket of the title game, once mentioned how much he still cherishes scoring the last points of the last state finals in Hinkle.
Marion, 1985. This started a championship three-peat for the Giants and will forever be the last perfect season in single-class basketball.
Lewis Cass and Pike, 2003. "It had been 18 years since Marion," Cass Coach Basil Mawbey said, "and then between Lewis Cass and Pike, only eight hours."
Waldron, 2004. The only 1A team to ever do it.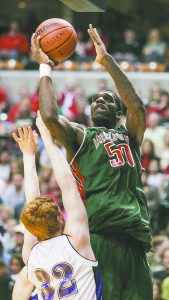 Lawrence North, 2006. The final conquest of the Greg Oden-Mike Conley empire.
Bloomington South and Princeton, 2009. Two perfect records were capped off in the same Saturday night session. J.R. Holmes coached Bloomington South. Remember that name.
Warren Central, 2018. That makes 13. Only 13, for an event that started in 1911. These are some of their tales, beginning with Warren Central.
Beyers: "The kids were so focused on the next game, they never talked about going undefeated; the coaches never talked about it."
It wasn't easy for Warren Central. He mentioned the overtime win over Ben Davis in the regional. The regular-season game with Zionsville—"We were down 16-2 at the end of the first quarter and won in three overtimes." David Bell's last-second shot to beat New Albany and end Romeo Langford's career in the semistate. The 54-48 state championship victory over Carmel, when Warren Central was down 11 in the third period.
"The most important thing is to look back and say, 'We won the close games. It wasn't a fluke, we didn't slide in there, we were the best team in the state from beginning to end.' They won more games than anybody in the history of the state of Indiana to win a state championship. That may never be broken."
Delaney on his Waldron experience: "I was spoiled. That was my first year as a head coach. If I was smart enough, I would have retired after that year. You always have a bond with state championship teams, but when you go undefeated, you have that special place together in history."
Two of Delaney's starters were the Barnard twins. "They wouldn't cut their hair until we lost. They started with really short hair at the beginning of the season. By the end, it was really long. I remember every game, they brought this little portable TV and they played a little portion of 'Remember the Titans,' where [the coach] talks about being perfect. We had to watch that before we went out for every game."
Odd P.S.: Delaney left the next year for Southport and would eventually win another state title at Indianapolis Tech. Waldron went from 27-0 to 0-20.
Artis, about the semistate title game when Roosevelt was down 15 points to Michigan City at halftime, and Bradley stormed into the locker room to harangue his teammates and tell Coach Bill Holzbach it was time to change from zone to man-to-man. "Our head coach just sat down like he was one of the players. I was a sophomore and I just sat there mesmerized by what's going on. The halftime went on so long, the referees had to come get us. It was chaos in there."
Roosevelt rallied to win by four.
Another odd P.S.: Artis went on to coaching, real estate and became the brother-in-law of … Indianapolis Washington's Steve Downing.
Mawbey of Lewis Cass: "The regular season ended with a 20-0 record, same as 2002. In 2002, we lost the first game of the sectional to Taylor. They were strong again and playing them would have been pressure-packed. But they lost on Friday."
Since the Kings won every tournament game by at least nine points, the real suspense was who would be nominated for the Trester Award.
Mawbey: "We had the top two students in the class. The No. 1 student, Michael Keller, was a 4.43 [GPA] student, and was not nominated for the Trester. He's a medical doctor now. The nominee [and winner] was Beau Bauer, 4.36, who never got anything but an A in high school or college. I let the AD and principal decide."
Mawbey had won a state title 20 years earlier at Connersville. "The first question asked at the post-game interview was, 'How does this compare to 1983?' They were both great, as winning the last game cannot be topped."
Especially when you've won every game before it. But only 13 coaches know about that, including J.R. Holmes. This year, his Bloomington South team was 26-0. Had things worked out this weekend for the Panthers, Holmes would have become the only man with two perfect seasons. But we'll never know.•
__________
Lopresti is a lifelong resident of Richmond and a graduate of Ball State University. He was a columnist for USA Today and Gannett newspapers for 31 years; he covered 34 Final Fours, 30 Super Bowls, 32 World Series and 16 Olympics. His column appears weekly. He can be reached at mjl5853@aol.com.
Please enable JavaScript to view this content.