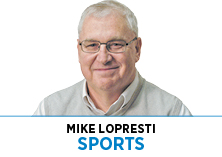 So, Georgia. Enjoy your visit to Indianapolis?
Yeah, it was cold outside. Yeah, it was windy. And too bad the drone light shows never happened. This must have been Mother Nature's way of getting even for the Super Bowl. Then again, all those skywalks connecting downtown were built for a reason, and so was the roof over Lucas Oil Stadium. We've just seen how valuable they can be when the visitors are from the South and think a January cold front means 50 degrees.
Besides, nobody from Georgia will be complaining. Monday's 33-18 victory had to mean so much to Bulldogs everywhere, even Butler's Blue was probably cheering. You should have heard the Georgia assistant coaches screaming and pounding the wall as they hopped on the press box elevator to take them downstairs when the game ended. Imagine 10 guys who just found out they won the Powerball.
Purdue fans will understand Georgia's joy. The Bulldogs had been longing for another national championship since 1980. Eons. The Boilermakers have waited that long to get back to the Final Four.
IU fans should understand Georgia's relief in doing something at last about Alabama's dominance. Imagine the football Hoosiers finally beating Ohio State.
As the clock struck midnight in the house that Peyton Manning built – he was on the premises Monday night, and so was Andrew Luck – the air was alive with fluttering confetti, while the stands were teeming with happy and fulfilled customers. That's more than you can say for a lot of Colts games this season. "There's going to be some property torn up in Indianapolis tonight, baby," head coach Kirby Smart shouted to the post-game audience. Not to worry, it wasn't a tornado warning. That's an old line from Georgia's football radio legend Larry Munson.
History had been made and a gnawing hunger satisfied. Indianapolis is good for that. When it came to Alabama, Georgia had been Wile E. Coyote trying to catch the Roadrunner. Seven losses in a row back to 2008. Now the very mention of Indianapolis will bring a smile to Georgia. Just as it does for Baylor, who had waited so long in basketball until last April. Just as it does for Duke and Florida and Arizona and Louisville, who all won their first basketball titles here.
The Indiana audience could only look on Monday with an outsider's admiration. We don't know a lot about this football title stuff. This was Georgia's 35th bowl/postseason victory in its history. The entire state of Indiana – IU, Purdue, Notre Dame, Ball State – has only 33. Still, you could cheer along. Take the offensive game MVP. How could you not like a former walk-on quarterback who used to be on the Georgia scout team, and wishes so much to be distant from social media, he carries a flip phone? Let's hear it for Stetson Bennett IV, whose journey to this moment left him in tears Monday night. "I hadn't cried in, I don't know, years, but that just came over me," he said after throwing two touchdown passes. "When you put as much time as we do into this thing – blood, sweat and tears – it means something.
Or take the Georgia defense. The Bulldogs gave up 13 offensive touchdowns in 15 games, only three by rushing. IU gave up five rushing touchdowns to Rutgers.
Not even Heisman-winning quarterback Bryce Young could get much done Monday night against the Georgia defense. "I didn't get the ball into the end zone, and that's on me," he said. "It's a little tough that I let them down today." But then, he's not the only quarterback in the news in Indianapolis who had a tough weekend.
It was something of an unconventional evening. A Georgia touchdown was taken away by a review and overturned call only 97 seconds into the game. Not long after, Alabama committed a penalty that might have never been seen before in Lucas Oil Stadium: five yards for clapping. One of the naughty Tide apparently was trying to disrupt the Georgia signals.
By halftime, a Punt, Pass and Kick competition had broken out. Alabama led Georgia three field goals to two. There had been no touchdowns, but six punts. Meanwhile, up in the press box, the halftime spread for the media included four mounds of St. Elmo shrimp cocktail. That's one way to guarantee friendly stories.
Georgia took over in the second half, with the ghosts of 41 years of frustration pushing the Bulldogs along. Sunday night, Smart was riding the elevator at the team hotel, and when it opened on the 15th floor, there was Vince Dooley, the man who coached the 1980 Georgia national champions. He was locked out of his room. "God put him there for me to see him the night before the game," Smart said.
When the moment came Monday, the Bulldogs grew stronger and stronger, and finished the job decisively with a 79-yard interception return for a touchdown in the final minute. Turns out that, in 38 bowl games this year, the only overtime needed was Purdue to beat Tennessee in the Music City Bowl.
So the long college football season finally ended, in the same building the last college basketball season did. Only eight months until Indiana hosts Northwestern, and Penn State is at Purdue to open the 2022 schedule. Meanwhile, as happy Georgia and downcast Alabama leave town, Indianapolis has another big event testimonial to put on the wall. And always the same question to ask.
Next?
Please enable JavaScript to view this content.