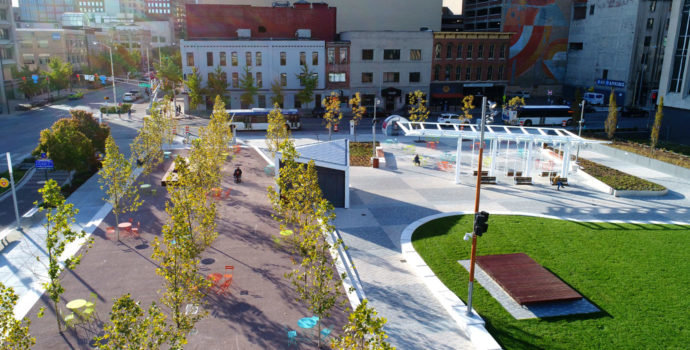 Indianapolis design firm Rundell Ernstberger Associates took home the highest honor at the Indy Chamber's annual Monumental Awards gala Wednesday night for its work on the redevelopment of the public space outside the City-County Building now known as Richard G. Lugar Plaza.
The 42nd annual awards recognize excellence in local architecture, engineering, interior design, landscape architecture, construction, real estate development, neighborhood revitalization, innovate reuse and public art. The ceremony took place at the Indiana Roof Ballroom.
Monumental Award winner Rundell Ernstberger was chosen in 2016 to lead the redesign efforts of the City-County Building plaza along East Washington Street. The plaza reopened in October 2018 after a $9 million redevelopment project.
Other award winners:
Architecture: Indianapolis Public Library Michigan Road Branch, KRM Architecture;
Construction: Hyatt House & Hyatt Place hotel and parking structure, F.A. Wilhelm Construction Co.;
Engineering: Butler University chilled water plant, Heapy Engineering;
Innovative Reuse: 1221 Penn, Guidon Design;
Interior Design: IBJ Media corporate headquarters, CSO Architects;
Landscape Architecture: Richard G. Lugar Plaza, Rundell Ernstberger Associates;
Neighborhood Revitalization: Riverside High School, Indianapolis Classical Schools;
Public Art: PreEnactIndy, Harrison Center;
Real Estate Development: Dorman SQ , Stenz Corp.;
People's Choice: Blake's Children's Garden at Garfield Park, The Hagerman Group.
Please enable JavaScript to view this content.