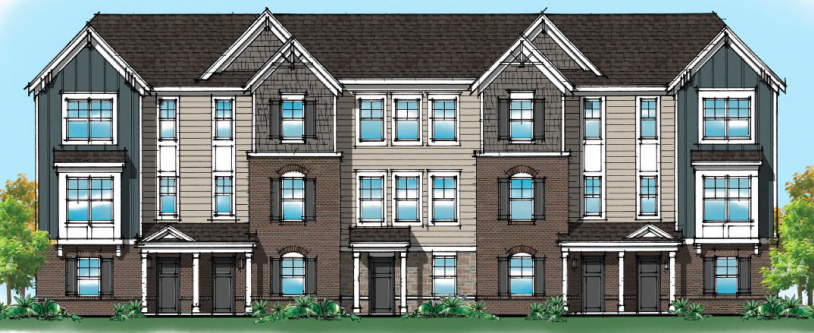 A proposed residential development with more than 100 homes and four acres of commercial space in east Westfield is a step closer to becoming reality.
Indianapolis-based M/I Homes of Indiana received approval from the Westfield City Council this week on its rezoning request for 28 acres south of State Road 32, just west of Gray Road, so the property can be developed with an expected 138 townhouses and up to 40,000 square feet of office space.
Construction on the $40 million residential district, called Bonterra, along the Midland Trail should start next spring. Plans call for homes to be sold as early as June 2022.
The timeline for the two-site commercial portion of the project hinges on when M/I Homes chooses a developer.
"There will be another entity that purchases that [property] to build and develop the commercial portion, but it could take any number of forms," said Jonathan Isaacs, a land acquisition manager for M/I Homes. "It could be multiple buildings on each site, one big building on each site."
The two sites could play home to $10 million to $15 million of small professional or medical offices, or childcare services, according to Isaacs. Residential units would go on top of the offices.
In the residential portion of the development, M/I Homes plans 10 groupings of five townhouses, each with three stories, immediately south of the commercial area, available for an average asking price of $275,000.
Along the project's perimeter, there will be 17 groupings of anywhere from three to six owner-occupied townhouses of two stories each. Those slightly larger units are expected to sell for an average of $295,000.
"The two-story buildings would be more of a traditional, suburban-style town home where garages are to the front side of the buildings," Isaacs said. "Then you have the traditional three-story, alley-loaded town homes where the garages will be loaded off the rear from an alley. Those buildings live a little more urban."
Though floorplans will vary, each unit will have either two or three bedrooms.
Isaacs said townhouses in the Indianapolis area have proven to be attractive to a wide subset of buyers. He envisioned the Bonterra neighborhood will appeal to first-time homebuyers, empty-nesters who are downsizing or single-parent households.

Isaacs said M/I Homes will preserve a wooded area along State Road 32 as a privately owned park, and that a trail will run through the neighborhood to connect it to the Midland Trail.
"We're talking about some more passive recreational type elements," Isaacs said. "The interesting thing about this project is, being on the Midland Trail, it offers great opportunities to bike or walk to local shopping areas."
Please enable JavaScript to view this content.