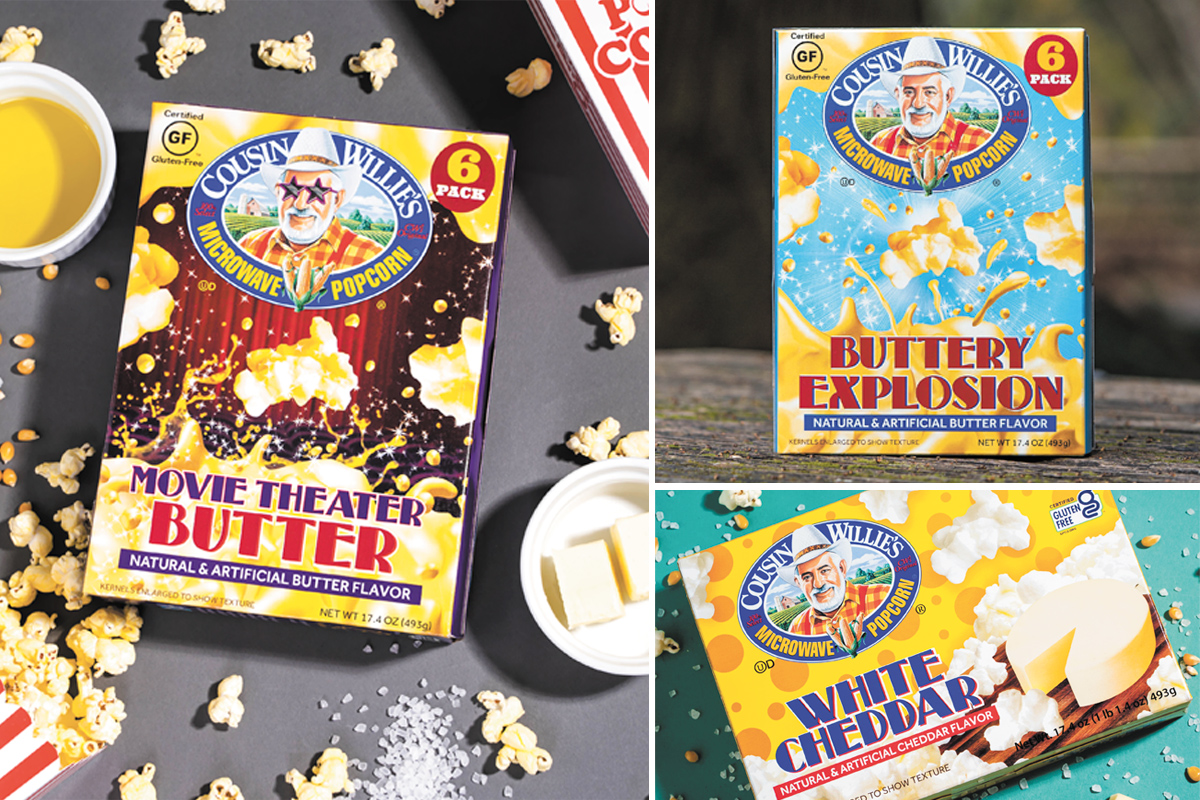 History: In 1944, Edward Sieg and his wife, Agnes, planted and harvested their first 10 acres of popcorn on the family farm, then traversed Harrison County in southern Indiana to sell the raw product to stores. In 1960, the Siegs' four sons—Wilfred, Donald, Eugene and Mark—inherited the business, Ramsey Popcorn Co. From there, they launched their hallmark product, Cousin Willie's Popcorn. The iconic "Cousin Willie" that appears on the package is modeled after Wilfred Sieg Sr. The character dons a white hat, red plaid shirt and white beard.
Rolling with the changes:  The invention of the microwave changed the business in the 1980s, as the market shifted from just wholesale and movie theaters to everyday consumers. At that time, the company started packaging its microwaveable popcorn in nearby New Albany.
Staying in the family: In 1996, the third generation of the family took over. Wilfred Sieg Jr. became company president, while his brother Daniel serves as vice president, Eric Sieg is treasurer and Jason Sieg is national sales manager. By 2013, the company was farming 7,000 acres of land in Indiana and 15,000 acres nationwide. All the popcorn is grown in the United States. The company remains family-owned.
Global reach: Ramsey Popcorn Co. sells roughly 50 million pounds of popcorn a year and exports to Taiwan, Canada, Holland, Denmark, Russia, Israel, Mexico, Honduras, Greece, Saudi Arabia, Egypt, Israel, Bulgaria, Mexico and throughout Europe.
Product details: Cousin Willie's microwave popcorn options include flavors such as "buttery explosion," "white cheddar" and "cinnamon toast." The brand also offers bagged, pre-popped, flavored popcorn with the addition of the words "Simply Better" on the packaging.
Fun fact: Ramsey Popcorn also owns Camp Masters, which is one of three companies authorized to produce popcorn for the fundraising efforts of the Boy Scouts of America Council.
Headquarters: Ramsey
Website: ramseypopcorn.com
Compiled by Taylor Wooten
Please enable JavaScript to view this content.