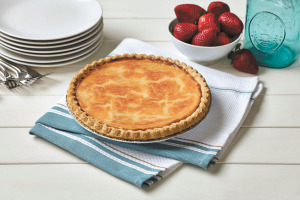 History: The company was started in 1944 by Duane "Wick" Wickersham as a café intended to deter factory workers from drinking on the job. Wickersham used his grandmother's pie recipes for the café and a 1934 Buick sedan to deliver the product throughout Winchester. Within four years, Wick was selling 300 pies per day. In 1961, he moved the production of the pies to a larger facility at 217 Greenville Ave., where it still operates—producing more than 10,000 pies and 30,000 crusts in a single day.
Product details: Wick's sells millions of its pies per year in stores and online. It offers eight primary varieties: its original sugar cream, Southern pecan, coconut cream, pumpkin, German chocolate, pumpkin chess and peanut butter cream. It also sells several varieties of pie shells, lids and glazes. The Winchester shop and café offer dozens more flavors, including numerous fruit-filled varieties like apple, blueberry, cherry and peach, and cream pie varieties like butterscotch, chocolate and lemon.
More choices: The company has expanded its offerings in recent years to include glazes of four flavors: blueberry, peach, strawberry and sugar-free strawberry. It also continues to operate its bakery and café in downtown Winchester, which has a full menu for breakfast and lunch, including more than 36 flavors of pies.
Employees: 60
Where to buy: direct sales (in person and online); retailers such as Fresh Thyme, Kroger, Meijer, Needler's and various locally owned groceries.
Fun fact: Thanks in part to the popularity of Wicks' top-selling confection, sugar cream pie is Indiana's unofficial state pie. There was an effort to give it official status in 2009, but the legislation failed to reach the governor's desk.
Address: 217 Greenville Ave., Winchester
Website: www.wickspies.com
Please enable JavaScript to view this content.