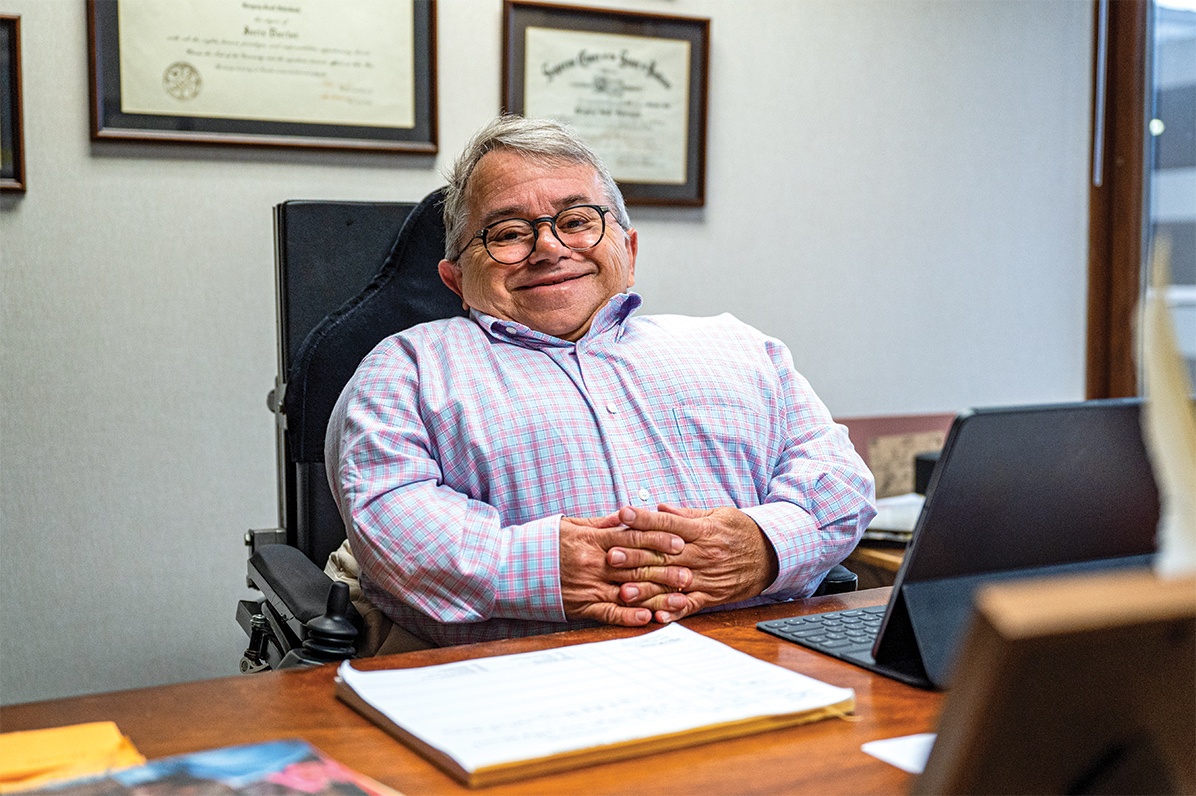 Greg Fehribach has been an attorney for 35 years, but he's also plenty of other things: accessibility expert, panel trustee for a U.S. bankruptcy court in Indiana, person behind Ball State University and Eskenazi Health's internship program for disabled students, and tourist.
Now, he's back as a board member for Indiana Landmarks, a not-for-profit that seeks to save historic buildings. His goal? Help everyone enjoy the history.
You're an accessibility attorney. Where did the interest in historic structures come from?
I guess I've always enjoyed history. … I love historic places. But I like people that created the places, used the places and understanding their story as to how we all got to where we are today. I don't look at historic places as static. I look at historic places as actually living things because they housed or served humans during that particular period of time.
How do you square your passions for accessibility and historic architecture with the fact that so many historic structures aren't accessible?
Everything I do is in the old civil rights way. You know, why were people of color precluded from all the things they were precluded? Let alone slavery. You think about indigenous people and how they lived on this land, in their structures, for so many years, and how we came and erased a lot of that. People with disabilities fall into that same category, and they've been excluded for a really long time.
I got admitted [to the bar] to practice the 10th day of October 1986. There was no [Americans with Disabilities Act of 1990]. You were not penalized for discriminating against people with disabilities. So when I swore into the bar, raised my hand to support the constitutions of the state of Indiana and the United States of America, there were no accessible restrooms.
I've just taken it apart as a guy who's had a lot of good things happen to him and share that with the next generation. I guess now it's a couple generations!
You've already served on Indiana Landmarks' board. Why come back?
I'm on a lot of boards where I get to do the teaching. But on this one, I get to do the learning and then apply my craft to the projects. It's a lot of fun.
You've served on boards for accessibility in health care, public transportation and even at the Governor's Residence. What's overlooked when it comes to accessibility?
I think it's the fear of being able to take money away from "sexy" things. [Say] you spend a lot of money and make the room and all the accoutrements of the room "sexy," and people think that using that money for accessibility—ramps, accessible toilets, things of that nature—that you don't get the best bang for your buck. …
When [people's] family members or friends or loved ones can enter a historic space that they weren't able to get into before, I think that's as much a "wow" moment as having a great chandelier.
What's your favorite accessible historical structure?
I've got to tell you, the Colosseum [in Rome] is a pretty big deal. I had no idea it was going to have [an accessible viewing platform]. A lot of my work is in today's modern-day coliseums—all the stadiums, I mean. …
When I entered [the Colosseum]—I didn't have any idea of what I was going to get to see—it was like, "Holy mackerel, here I am, getting a look down there!"•
Please enable JavaScript to view this content.