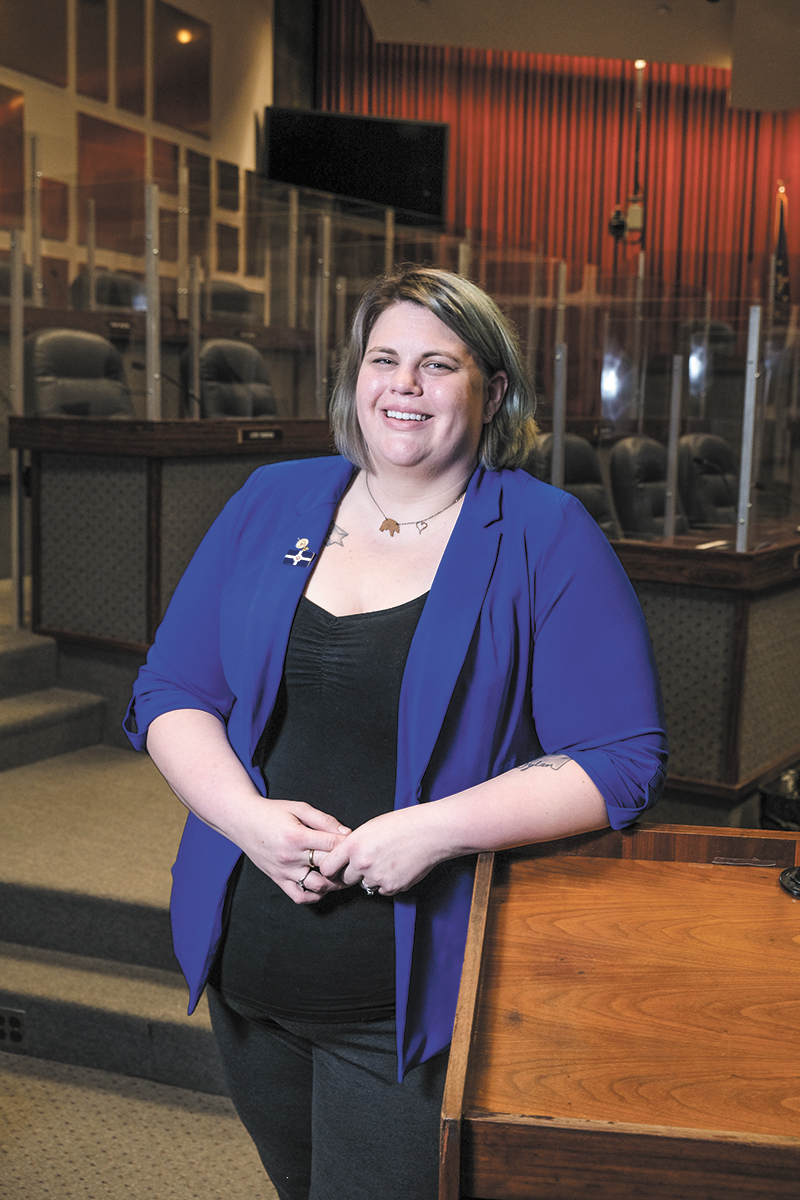 District 5 City-County Councilor Ali Brown has launched the Indy Autism Project, with the goal of making Indianapolis the "safest city in the country" for those with autism spectrum disorder, which causes impairments in behavior and social interactions.
The project will train public-facing city employees on communicating with and helping people living on the spectrum. Brown's son, Dylan, 3, was diagnosed with autism as she was campaigning for her position.
Why is this project important to you?
Just like any parent, all I want is the best—to give him the world. But when he was diagnosed, I felt like a big chunk of the world that I could give him had been taken away, because it's not built for people on the spectrum. It's not built for people with sensory sensitivities. Frankly, the world in general just isn't kind to people who are different.
So I decided, as a parent, I was going to do everything I could to make his life as normal as I could. And then I got elected, and I thought, 'I can do this for the whole city. I can bring these people together.' The power of the council is really to be the great convener. So, I saw an opportunity, and frankly, an easy win for the city of Indianapolis. Because there's so many amazing things already happening here that all it really takes is bringing everyone to the table and acknowledging where we go to move forward to change the city.
Tell us about Dylan?
Dylan is hilarious. He absolutely loves trains. So, he'll be 4 in January, and he can read at a Level 2 reader. He has memorized all of the states, their shapes and their capitals. One night … he decided he was going to learn Spanish. He taught himself letters in Spanish, the alphabet forward and backward, which is one of his fun talents, and he could count to about 45 [in Spanish] by the time he woke up that next morning.
He's like a super processor. It's pretty amazing. But he has difficulty in social situations. Outside of Mom and Dad, it takes a while for him to warm up to other people. It takes a while for him to warm up to other spaces.
What is involved in the Indy Autism Project? How will it make the city safer?
What's great about this project is, there's no end date. There's no end goal. It's an ever-evolving project, with the goal of making Indianapolis the safest place for somebody on the spectrum to live, work and visit.
So, initially, we're starting off with five pillars: public safety, public transit, parks and recreation, employment/workforce development and hospitality/tourism. … It's not about changing people on the spectrum. It's about changing Indianapolis to better suit those people—it's giving everyone a little more education, a little more space and a little more grace.
As part of this project, Indianapolis will become an autism-certified city. How many are there?
So, there's one: Mesa, Arizona. I have not myself ever been to Mesa, Arizona. It's No. 1 on our list once everything is safe to travel again. But Mesa, Arizona, is the only city we've seen to ever become an autism-certified city. So we looked at what they did, and we're doing everything they did plus more.•
Please enable JavaScript to view this content.