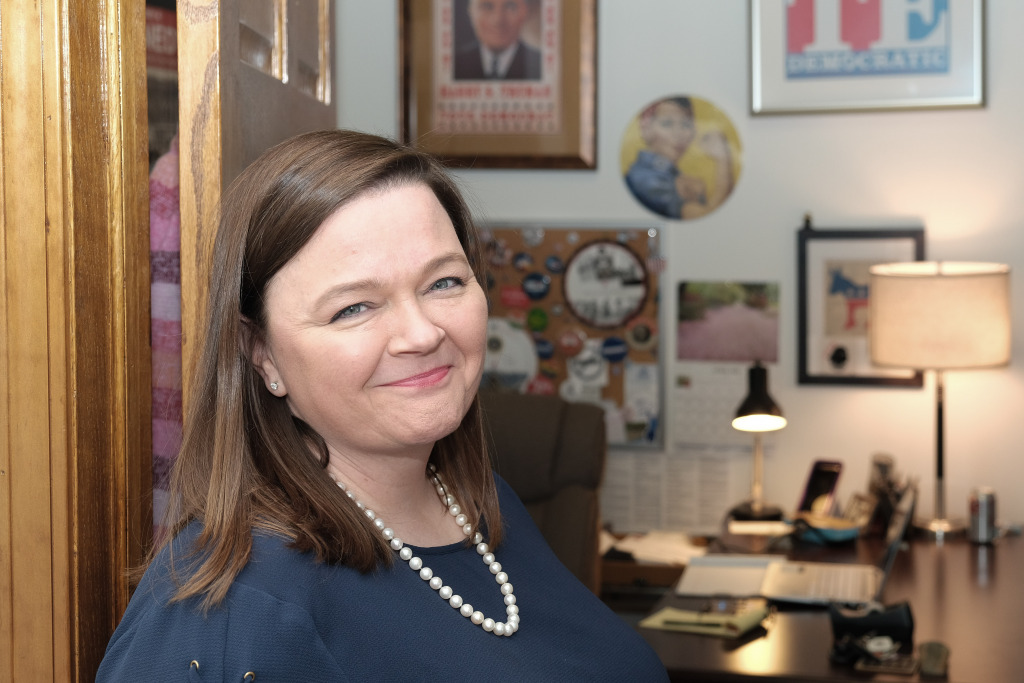 Three organizations are calling for the Marion County Democratic Party to name its first Black chair following the resignation of party leader Kate Sweeney Bell, who has been criticized for months by some Black Democrats.
In a joint statement Tuesday, Concerned Clergy of Indianapolis, National Action Network of Indiana and the Baptist Ministers Alliance called for the change and questioned why Bell's departure from party leadership didn't come sooner.
"While acknowledging that the resignation of Chairwoman Kate [Sweeney] Bell is a proper first step in reforming the Marion County Democrat party, we are disappointed that Ms. Bell took so long to tenure her resignation without allowing the new chairperson to identify and assign open Precinct Committee members and Vice Precinct Committee individuals," the statement said.
The organizations, with strong ties to Black Democrats, and Black officeholders began to forcefully criticize Bell in February, calling for her resignation and accusing her of discrimination and conflict of interest in the selection of precinct committee people and the slating of candidates.
Some Black leaders saw conflict in Bell's dual role as party chair and elected officeholder. She is currently county recorder and is running in the November election for county clerk against Republican Andrew Harrison.
At the time, Bell responded to the criticism by noting that the party this year endorsed a slate that featured 50 percent candidates of color, which she described as "one of the most talented, diverse tickets in county history."
In February, she said she would step down as party chair if she won the November election. But in an email to county Democrats on Monday, Bell said the significance of the upcoming election led to her decision to resign earlier. She said party unity is important.
"I passionately believe that the Marion County Democratic Party must be single-minded in ensuring we help our candidates win up and down the ballot in a few short months," Bell said in the statement.
The groups opposing Bell are also asking for a party chair who is not an elected official. Their statement said this would allow the new chair to tackle the "current schism" in the county party as a full-time job.
Bell was chair of the party for five years, during which all countywide seats remained Democratic. She was named to the post with the blessing of Indianapolis Mayor Joe Hogsett.
Indiana State Democratic Chair Mike Schmuhl applauded Bell's work in a statement, citing Hogsett's reelection and the Democratic supermajority on the City-County Council.
"Kate Sweeney Bell was a fearless chairwoman for the Marion County Democratic Party, and through her work, she ushered in an era where Democrats have dominated city and county elections up and down the ticket," Schmuhl said.
Bell did not immediately respond to a request for comment. In May, she told IBJ she had confidence in the Marion County Democratic Central Committee to make the correct choice for a successor.
Please enable JavaScript to view this content.